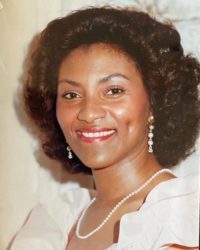 Delores Payne Gullick, 74, of Mt Ulla, N.C., passed away peacefully at Gordon Hospice House in Statesville, N.C., on Friday, June 3, 2022.
Dee was born on April 25, 1948, in Struthers, Ohio, where she grew up and graduated from high school. Dee married the Rev. William Gullick in 1969. They later moved to North Carolina to pastor AME Zion churches in the Winston-Salem district, the Statesville District, the Salisbury District and the North Charlotte district. She held several offices, including serving as a consecrated Deaconess, a Delegate to District and Annual conferences, the Lay council where she assisted and attended many Laity functions of the church as well as an Officer for the North Charlotte District MSWF. Dee also worked with the Winston-Salem District Christian Education Department as the Children's Director of CED as well as working with children's choirs. She worked as the Buds of Promise Superintendent, the children's branch of the Women's Home and Overseas Missionary Society, WHOMS. Dee was often the Home Missions representative at the churches Rev. Gullick pastored. She also created Liturgical Praise Teams composed of children and youth in every church Rev. Gullick ministered. Just this past conference Dee was appointed as the North Charlotte District Secretary of the Bureau of Supply, the support driven and giving branch of the Women's Home & Overseas Missionary Society. She was also involved with the NAACP and the Los Amigos service/civic organizations. Dee also sang with the choir, and when not singing with the choir she could be heard singing from the pews as she loved praising the Lord.
Above all her passions, Dee's heart and calling was dedicated to serving children and youth. If she wasn't spoiling her own grandchildren with toys and gifts or offering various educational tidbits, she was spoiling someone else's children. She always had a toy, a gift or even a dollar to give to any child she adored. If there was a committee she could serve on or a way she could help, especially if it involved children, she always did it enthusiastically and with style.
She had a soft spot for kids of all ages and was so proud of their accomplishments.
Dee was preceded in death by her husband, Rev. William Gullick, and both of her parents.
She is survived by her son, Shawn Gullick of Statesville, his wife Jami, and their children Elijah and Ethan; her daughter, Terah Boyd of Seven Springs, her husband Victor, and their children King, Queen and Magnus. She is also survived by her four sisters, Mary F. Williams (Eddie) of Ohio, Linda L Payne Ambeaux (Dr. Louis) of Texas, Gwendolyn Payne of California and Christine Perrin (James) of Nevada, as well as two brothers, Clifton Payne (Diana) of Indiana and Raymond Payne (Betty) of Tennessee; and several nieces and nephews.
W.H. Bryant and A.E. Grier & Sons in Mooresville is serving the family.