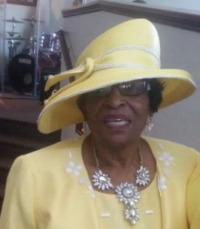 Irene Regina Bryant Sharpe, daughter of the late Theodore and Imerdene Bryant, was born on July 11, 1940, in Baltimore, Md. She peacefully departed this life on May 31, 2022, at Iredell Memorial Hospital in Statesville, N.C.
Irene Regina Sharpe, affectionately known to many as Granny but to us she was Mother or Mom, was the fifth child out of 12 children. She was preceded in death a by her husband, Deacon Clyde P. Sharpe; one grandson, Montrel Evans; a sister Cynthia Bryant; brothers, Theodore Bryant Jr., Nathaniel Bryant, Phillip Bryant and Charles Bryant; as well as sisters-in-law, brothers-in-law, aunts and uncles.
She met and married the love of her life Clyde P. Sharpe, who was affectionately called Parks, on October 17, 1957, and out of this union eight children were born.
She attended Baltimore City Public Schools and held various jobs through her lifetime. She received her cosmetology certification while at Carver Vocational High School; she received her CNA from Mitchell Community College in 1992, and she retired from Iredell Memorial Hospital after 19 years of service in the Anesthesia Department. Even through all of that, her main job was serving her God, her family, and her church.
Raised in the Fire Baptize Holiness Church alongside her mother and grandmother, she accepted the Lord Jesus Christ as her personal Savior at an early age and has been serving God ever since. Her Christian walk started at New Jerusalem FBH Church and after marriage she moved her membership to Calvary Baptist Church in Baltimore, Md., were she was a longtime member under the care of Pastor Lorenzo Graves. While at Calvary, she stood beside her husband as a deacon while he was being ordained as a deacon. She was the Director of the Food service committee for over 30 years, a member of the Gospel Chorus, Pastor Aide and the CBC Day Care.
Mom had a passion for cooking and feeding everyone she could. It was never a dull day at the Sharpe residence, especially on Sunday when everyone would gather at 931 Ashburton Street. They knew it was going to be some good ole fried chicken and her famous sweet potato pies. We would eat, clean up and then have a concert. We knew she did not play no games with us. She said what she meant and meant what she said at all levels.
During her pass time, she loved doing hair, mall cruising, making jewelry, roller skating, riding motorcycle with her Parks, making clothes, vacationing, camping and spending money. Family was everything to her.
While growing up ,she would always make sure we had family time. We would go skating every Saturday at Painter's Mill Skating Rink and bowling on Fridays at Woodlawn bowling alley.
Once her Parks retired, she packed up and moved to Olin, N.C., to start a new chapter in life where she followed her husband and joined his family church, Siloam AME. Continuing her Christian walk, she later joined Clarks Chapel Baptist Church under the leadership of Pastor C.B. Mingo. As a faithful Pastor's Aide President, she later welcomed the New Pastor Dietrich Morrison Danner, and she served him faithfully until her health failed.
She leaves to cherish her memory three sons Carl (Lucretia), Kevin (Lisa), and Andre; four daughters, Felecia, Wanda (Stephen) Jacqueline, and Marnie (Lenon Bishop Ford III) Helen; fifteen grandchildren, Tanea (RubinIII), Myia, Carla, Tyneisha, Calvin, Briah, DeSean, Teseanah, Kevin Jr., Monyette, Jerod, Kristen, Sophia, Naomi and Josiah; 20 great grandchildren, Jasmine, Shamia, Shamyia, Amonie, Kendrick, Amierra, Morgan, Donyae, Donnell, Daelyn, Camari, Camierra, Calvin Jr. Jay, Laila, Autumn, Bailey, Aniyah, Rubin IV and Lexington; four great great grandchildren, Laila, Joshua, Malik and Mekhi; four sisters, Laverne Bankins, Janice Silver, Clarice and Brenda Bryant; and two brothers, Henry and Leonard Bryant. Also surviving are a host of other relatives including nieces, nephews, cousins, neighbors, spiritual sons and daughters, great family and friends, including one special friend, Sylvia Self, who stood beside her to the end.
A Celebration of life service will be conducted, Friday, June 10, 2022, at 12:30 p.m. at Clark's Chapel Baptist Church. The family will receive friends from 12 to 12:30 p.m. at the church.
On Tuesday, June, 14, 2022, a viewing from 4 to 8 p.m. will be held at Vaugh Greene Funeral Service, 4101 Edmondson Ave, Baltimore, MD 21229. Burial will follow on Wednesday, June 15, 2022, at 10:45 a.m. at Garrison Forest Veteran Cemetery, Baltimore, Md.
Rutledge and Bigham Mortuary is serving the Sharpe family.