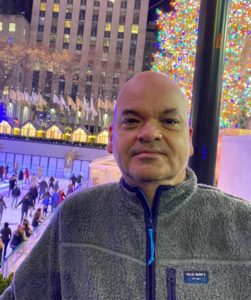 Deon Lester, 58, of Statesville, N.C., passed away at his home on October 23, 2022. Lester was born May 31, 1964, to the late Audra and Kathleen Murphy Lester, in Chicago, Ill.
Deon was preceded in death by his parents; wife, Paula Lester; brothers, Daniel Lester, Audra Lester Jr., Otis Lester, Gary Lester, Posey Lester, and Bradford Lester; and sister, Patsy Smallwood.
Deon is survived by his daughter, Deonna Lester; sister, Brenda Allen; brother, David Lester; nieces, Misty Allen, Dia Jean, and Simone Jones; nephews, Austin Dunford and Jason Lester; and sister-in-law, Denise (John) Dunford.
Statesville is where Deon called home for his physical being, but his eternal home is Heaven, where there is no sickness and the streets are made of pure gold and everything is peaceful. There he will reside in his mansion forever and ever.
Deon loved traveling and going on adventures with his daughter, Deonna. In addition to traveling, he enjoyed watching sports, listening to music, and relaxing outdoors. Deon graduated from Bluefield State College with his B.S. in Business. Deon was an evening manager at Food Lion. He cared greatly about his employees, and they loved him too. He was a great friend, loving father, brother, and husband. Deon married the love of his life, Paula Lester, on July 18, 1986, and they went on to spend 22 wonderful years together until her passing.
A graveside service will be held Friday, October 28, 2022, at 11 a.m. at Iredell Memorial Gardens.
In lieu of flowers, donations may be made to the National Breast Cancer Foundation in honor of his late wife, Paula Lester.
Fond memories and expressions of sympathy may be shared at www.bunchjohnsonfuneralhome.com for the Lester family.
Bunch-Johnson Funeral Home is serving the family.