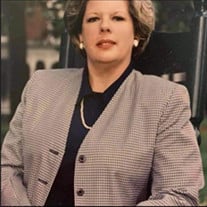 Diana Worsley Pope, 75, passed away on Saturday, July 9, 2022, in Mooresville, N.C. She was born on April 26, 1947, in Washington, D.C., and raised in Alexandria, Va.
She graduated from St. Agnes School in Alexandria in 1966, attended Stratford College in Danville, Va., and received a B.A. in History with Honors from Hollins College in 1994. She served the United States as a Foreign Service wife for most of her adult life.
She is survived by two children, Thomas Pinckney Pope and Robert Cabell Pope; a brother, William de Launay Worsley II; and four grandchildren, William Ashton Pope, Victoria Lee Pope, Brock Alexander Pope, and Connor Gilburt Pope.
A funeral service and celebration of life will be held for family and friends on July 23, 2022, at 2 p.m. at Brown-Wynne Funeral Home, 200 Southeast Maynard Road, Cary, N.C.
Cavin-Cook Funeral Home and Crematory, Mooresville, is serving the Pope family. Condolences may be sent to the family at www.cavin-cook.com.