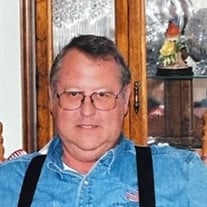 Donald "Don" Wilson McClain passed away surrounded by family on December 12, 2022. He was born on March 13, 1944, in Westminster, S.C., to the late Haskell and Flora Faye McClain.
A graduate of Westminster High School, Don was employed at Duke Energy for thirty years in various supervisory positions ranging from pipe hanging to movement of spent nuclear fuel rods. He married Anna Reed McClain in 1963.
Don lived a life of service as a Shepherd's volunteer fireman. He instilled in his children and grandchildren a respect for first responders and the sacrifices they make.
Don was known as Pop to his sons and Pop-Pop to his grandchildren. He was a devoted husband, loving father, and proud grandfather.
He was preceded in death by his parents and his sister, Lutricia McClain Bramlett.
Don is survived by his wife of 59 years, Anna Reed McClain; sons, Paul McClain (Mary) and David McClain (Lisa); and granddaughters, Ashley, Kristin, Lydia, and Julia McClain. He is also survived by his brother, Larry McClain (Jane).
The family will receive friends on December 26 at Cavin-Cook Funeral Home in Mooresville from 12 to 2 p.m., followed by a private graveside service.
Cavin-Cook Funeral Home and Crematory, Mooresville, is serving the McClain family.