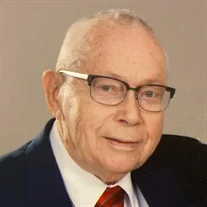 Dr. John Douglas Veach, 90, of Statesville, N.C., went to be with the Lord on May 28, 2022. He was born on February 28, 1932, to John and Alice Veach of Portsmouth, Ohio.
Doug graduated from Ohio University and went on to earn his doctorate from the University of Cincinnati College of Medicine. He completed an internship at St. Mary's Hospital in Cincinnati, Ohio, and his residency at Riverside Hospital in Columbus, Ohio. He practiced medicine in the field of Obstetrics and Gynecology for 30 years in Columbus, Ohio. During that time, he was on staff at Riverside and OSU Hospital as well as holding the title of Chief of Staff at St. Ann's Hospital. He led the charge for coached childbirth and La Leche in Franklin County, Ohio.
During his retirement, he enjoyed traveling around the world, reading any book he could get his hands on, and spending time with his family and friends in Ohio, Florida, and North Carolina.
Doug and his wife helped open a Christian school in Columbus, Ohio and have always supported various charities and organizations. He became a member of Western Avenue Baptist Church in 2011. His life's desire was to serve the Lord, love his family, be loyal to his country, and give his best to his career. He will be greatly missed by many.
Doug is preceded in death by his parents, John and Alice Veach; and sisters, Nina Jane Veach and Donna Jean Ivey.
He leaves behind his devoted wife of 65 years, Jacqueline E. Veach; his three children, Heidi (John) White, Rebecca (James) Reitzel, and Paul (Ann) Veach; his eight grandchildren, Tiffany (Jeremy) Hodges, Kimberly (Renan) Malafaia, Kristin (Tyler) Durbin, Dakota (Erica) Veach, Kenneth Reitzel, Caleb (Moriah) Veach, Katie Reitzel, and Cheyenne (Joshua) Rivenbark; and several great-grandchildren; his brother, David (Evelyn) Veach; his sister, Linda (Bill) Seidler; and several nieces and nephews.
Funeral services will be held at Western Avenue Baptist Church in Statesville, N.C., on Thursday, June 2, at 6 p.m. Pastor Jeff Spry will officiate. The family will visit with friends after the service. Graveside services will be held at Union Cemetery, in Columbus, Ohio, on Saturday, June 11, at 11 a.m. In lieu of flowers, please consider a donation to the Statesville Dialysis Center, Purple Heart Homes, or the Pregnancy Resource Center of Statesville.
Nicholson Funeral Home is serving the family.