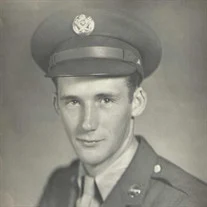 John Douglas "JD" Goforth, 95, passed away May 27, 2022. He was born June 24, 1926, in Iredell County, N.C. He was preceded in death by Helen A. Goforth, his wife of 67 years, as well as his parents, Mr. and Mrs. AZ Goforth; and two brothers, Arthur (Jack) and Donald (Pap) Goforth.
Mr. Goforth served in the United States Army in Europe during World War II. He owned and operated Goforth Grocery and Texaco Station on Wilson Lee Boulevard for over 20 years. He served at Diamond Hill Church as a member, Deacon, teacher, and treasurer for 50 years.
He is survived by his daughter, Linda Thompson (Donald) of Durham; three grandchildren, Cory (Emily) of Houston, Texas, Amber Leigh (Boone), and Cameron (Susan) of Chapel Hill; and his sister-in-law, Jeanette. He is also survived by several nieces, nephews and six great-grandchildren.
A special thanks to Jess, Joan, Gloria, and Rosie for all your loving and very loyal help with Mr. Goforth.
As COVID-19 cases are rising, a graveside service will be held at Oakwood Cemetery at 2 p.m. on Tuesday, May 31, 2022. The family asks that those who attend, please wear facial coverings at all times during the service.
In lieu of flowers, please consider memorial contributions to Diamond Hill Church, 2320 E. Broad Street, Statesville, NC 28625 or to the Gordon Hospice House, 2327 Simonton Road, Statesville, NC 28625.
Online condolences may be made to the family at www.nicholsonfunerals.com.
Nicholson Funeral Home has the honor of serving the family of Mr. Goforth.