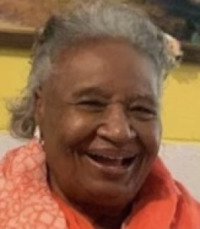 Mrs. Etta Summers Stevenson, affectionately known as "Ett," was a caring wife, mother, grandmother, sister and friend. She transitioned peacefully to her eternal home on Saturday, June 11, 2022, carried away by her husband James at their residence surrounded by loved ones, as requested. She attended Unity High School in Statesville, N.C. Formerly, she was employed with Cline Cleaners for a number of years, followed by Sloan's Cleaners, where she was a dedicated employee up until two years ago. She was a devoted member of Davidsonville Baptist Church.
In addition to her late parents, she was preceded in death by her husband, James A. Stevenson, along with her baby boy, Titus Zane Stevenson; two sisters, Louise Summers and Margaret McClain; and three brothers, Nathaniel Howard, Marshall Summers and Wayne Summers.
She was the loving mother of Ricky (Willene) Summers, Kelly Summers, Robin Stevenson, Shirlon (Tony) Stevenson and Joy (James) Mayfield. She will be deeply missed by all who knew her. Ett served as the "Matriarch" of the Stevenson family. She was a strong woman who faced every challenge in her life with courage, dignity and resilience. She was a source of inspiration to us all and she will be deeply missed by everyone whose life she touched. She was a woman of strong faith and she instilled in us the importance of family, hard work and doing what is right. It went without saying, but Ett's family was arguably her most prized possession. She was a true role model who we will always look up to.
She leaves to cherish her memories three brothers, Charles Summers, Thomas (Edith) Summers and Larry (Geneva) Summers; four sisters, Edith Stevenson, Ruthie (Gilbert) Redmond, Gwen Summers and Kathy (Rev. Glen) Millsaps; three sisters-in-law, Gracie Summers and Joyce Howard of Statesville, and Thelma Wheeler of Athens, Ga.; two aunts, Maggie Turner and Virginia Lazenby; her grandchildren, Narissa Wood, Contesa (Dan) Culbreth, Jeremiah (Cassandra) Stevenson, Latisha Stevenson, Kendrel Stevenson, Titus (Tiera) Summers, Antonio Stevenson, Jamie Phillips, Kiara Peet, Jada Stevenson, Ja'Nyah Wilson, Kelsi Summers, Jaheim Wilson, and Paul Summers; her 22 great-grandchildren; a former son and daughter in love, Lewis Wilson and Cherie Gillion; and her very best friend, Sarah Reid, and a special friend, Grace Tuner.
Rutledge & Bigham Funeral Home is serving the family.