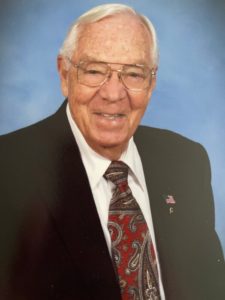 Gene Honeycutt, 94, of Mocksville, N.C., passed away Sunday, May 22, 2022, at the Kate B. Reynolds Hospice House in Winston-Salem, N.C.
Eugene Taylor Honeycutt was born March 21, 1928, to the late Mr. and Mrs. A.J. Honeycutt. He was preceded in death by his twin sister Kathleen Seibert; and sisters Dorothy Brown and Margaret Neel. He leaves behind his wife of 68 years, Phyllis Spencer Honeycutt; his loving daughter Gena (Rob) Taylor; two adoring granddaughters, Morgan and Madison; and his brother, Pete Honeycutt, along with many special extended family members and dear friends.
He attended Troutman High School and served in the 175th MP Battalion of the U.S. Army during the Korean Conflict and was stationed in Stuttgart, Germany. Following his return home from Germany, he asked the love of his life to marry him, and they united in marriage in 1953. He served in the Army Reserves for four years and he and his brother opened Honeycutt's Gulf Service Station. Gene served 30 years with the Troutman Fire Department, from 1953-1983 and served as the chief in 1963. He began his career with the Iredell County Sheriff's Department in 1965. One of Gene's greatest passions in life was his welding shop, where he built spiral staircases, utility trailers, and much more. He was a dedicated and involved member of Holy Trinity Lutheran Church for over 60 years, serving on various committees throughout those years. Sgt. Honeycutt retired from the Iredell County Sheriff's Department after 27 years of service in 1993. He was a member of the American Legion, has been honored as a 50-year member of the Troutman Lion's Club, was a past Patron and member of the Order of the Eastern Star, George M Young chapter in Troutman. He was a proud member of the Masonic Lodge since 1969 and served as Master of the Lodge in 2001. He recently received his Masonic 50th year pin. After retirement, he worked part-time at Troutman Funeral Home for over 25 years. In his final years, he and Phyllis moved to Mocksville and spent time every day with their daughter and family who loved him very much.
Throughout his 94 years, Gene was an active and friendly member of his community, and close friends describe him as a "gentle giant" who never met a stranger. His kind and humble nature will not soon be forgotten by his friends and family, whom he cherished, loved, and spoke fondly of until his final days.
Funeral services celebrating Mr. Honeycutt's life will be held at 2 p.m. on Friday, May 27, 2022, at Holy Trinity Lutheran Church, 225 Morgan Street, Troutman, NC 28166 with Pastor Deter Punt officiating. The family will visit with friends at the church from 12:30 to 2 p.m., prior to the service. Burial with full military honors and Masonic funeral rites will follow the funeral at St. Michaels Cemetery, 618 South Main Street, Troutman, NC 28166.
In lieu of flowers, memorials can be sent to Campbell Masonic Lodge #374, PO Box 181, Troutman, NC 28166, for the Lynn Hostetler Memorial Scholarship fund; or to Trellis Supportive Care, Davie Team, 101 Hospice Lane, Winston-Salem, NC 27103. The family would like to thank the Trellis Hospice Davie Team and the Kate B. Reynolds Hospice House for their kindness and care.
Troutman Funeral Home is serving the family.