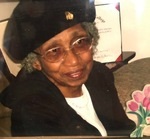 On March 11, 1925, Harvey Campbell and Lula Bruner Campbell of the Turnersburg Community had one of the five girls and five boys born to their marriage. They named her Eva Mae Campbell. Over her lifetime she came to be called Mate, Maw Maw, Miss Mate, Mama Eva, Great-Grammy, Aunt Mate and Miss Eva.
Her father was a farmer and sharecropper, her mother a homemaker and day worker. They raised their family at the home they'd owned since the 1920s. The family belonged to Rocky Creek AME Zion Church and often worshipped at Siloam AME Zion too. Eva and her siblings attended Rocky Creek Elementary School for grades 1-8 and were driven to Statesville to attend Morningside High School, the only high school in Iredell County for black children. Unity High School was built for children living outside the Statesville city limits so Eva transferred and graduated from Unity. At the age of 19, she married Ernest Solomon Campbell of the Piney Grove community. A family interview revealed that many family members met their spouses at church-related gatherings. Eva and Ernest lived in the Piney Grove community at the home of her father-in-law, Solomon M. Campbell, and there began their family. They were parents to seven children, two of whom died in infancy. While her children were still young, helping her father on his farm and attending both Piney Grove and Rocky Creek churches kept her children close to her parents and allowed visiting cousins to get to know each other. Frequent visits to and from Ernest's siblings allowed her children to bond with cousins on his side of their family too. In the early 60s, farm work changed only to family gardens and Eva found work in the factories in Statesville. There she made friends with Mrs. Betty Morrison, an addition to her circle bringing joy, laughter and companionship that has lasted to this day. In 1975 Eva and Ernest built their own home "across the road" and the attention to cleanliness and "what-nots" she inherited from her mother took full bloom. In her domain, there was a place for everything and everything belonged in its place. Over the last two years we, her children, have found great joy and endured great angst helping her make her little house into what pleased her most. She welcomed everyone coming to visit and it will forever be "Mom's House" to us because there we found love, refuge and a sweet guiding spirit we knew always prayed for our wellbeing.
Eva was preceded in death by her parents and four brothers, Harvey Jr., George, Thurby Lee and Alonzo; sisters Lois, Louise, Margaret and Elizabeth; and two children Eric Nelson and Mary Elizabeth.
She leaves to cherish her memory one brother, Robert (Yvonne); five children, Ernestine Merchant, Peggy (Clyde) Moore, Solomon Wayne (Shirley), Rickey Renard, and Eva Marie (Tony) Miller; five grandchildren, Scotty Wayne Campbell, Sheria (Rodney) Mills, Christopher Campbell, Stephanie Campbell and Eric (Nikia) Moore; 13 great grandchildren, Whitney Torrance, Shabria Dickinson, Caleb Ikard, Shymeek Roseboro, Chazlyn Campbell, Zaire Campbell, Jasmine Moore, Mikayla Moore, JuJuan Costner, Calvin "TJ" Costner, Myles Neils, Teara Neils, Armoni Neils, Talon Groff and Miriah Campbell; two great great granddaughters, Alivia Costner and Gianni Neils; three great, great, great grandchildren, Nolan, Leinani and Nahla; and special nieces, Irene Steele, Andrea Nichols and Medena Stevens for their dedicated devotion and a host of nieces and nephews.
We also acknowledge and give honor to Mom's Piney Grove Church Family and to Rev. John Phifer. Thank you for loving, supporting, sharing with and being spiritual partners with Mom in her faith walk for so many years. She now wears her crown and will welcome all of you one day.
We honored Mom's request for cremation.
Rutledge & Bigham Funeral Home is serving the family.