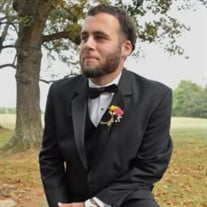 It is with great sadness that we announce the passing of Evan Leon Dancey, 27, of Mocksville, N.C., and formerly of Statesville, N.C., on Friday, October 14, 2022. He went home to be with his Heavenly Father.
He was born in Iredell County on October 29, 1994, to Josh Dancey and Amy Mendoza Williams.
Evan was a 2013 graduate of South Iredell High School, where he played football and during his senior year the team won the State Championship, and he was very proud of that. He loved all sports, but football was his favorite, and he was a Carolina Panthers fan. He also loved the Lakers and Lebron James. Evan was a Christian and loved people. He never met a stranger and loved talking to everyone he met. He enjoyed music, singing, dancing, and playing Xbox games. More than anything, he loved his family and would do anything for them.
He was preceded in death by his maternal grandfather, Martin Mendoza.
Those left to cherish his memory include his wife, Haley Dixon Dancey; two daughters, Haven Elizabeth Dancey and Emerson Rose Dancey; parents, Josh Dancey (Kathleen) and Amy Mendoza Williams (Andrew); a special aunt and uncle that were like second parents to him, Sasha and Eric St. John; three brothers, Timberland Stadler, Garrett Dancey, and Nathan Dancey; two sisters, Lauren Dancey and Isariah Istvan; "special siblings," Austin St. John (Amber), Kirkland St. John, Jeshua St. John, and Audrianna Wilkinson (Brayland); maternal grandmother, Hilda Wyatt; paternal grandparents, Reuben Dancey (Sherry) and Patricia Gagnon; maternal step-grandmother, Lillian Mendoza; and numerous aunts, uncles and cousins who loved him dearly.
A Celebration of Life Service will be held Saturday, October 22, 2022, at 12 noon at Western Avenue Baptist Church with Pastor Tim Fluke officiating. The family will visit with friends from 11 a.m. until 12 noon prior to the service. Burial will be private. The family requests that no black clothing be worn; instead wear Evan's favorite colors, red, yellow, white, or navy.
In lieu of flowers, the family requests that your donations be made directly to the bank account for his children, Haven and Emerson Dancey. You may call the SECU at 704-252-5580 and the account number can be located under the phone number 704-508-1775.
Fond memories and online condolences may be left at www.nicholsonfunerals.com.
Nicholson Funeral Home is honored to serve the Dancey family.