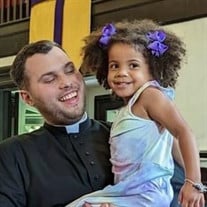 Father Adam Wade Nygren, 35, passed away on Friday, September 9, 2022, at his home in Stanley, N.C. Born on September 9, 1987, in Wilkesboro, N.C., he was the son of David Nygren and the late Linda Schilling Nygren.
Father Nygren was a Master Electrician who owned a local electrical company. In May of 2022, he received his Master of Divinity from the University of the South in Sewanee, Tenn., and on June 25, 2022, he was ordained a priest in the Episcopal Church.
In addition to his mother, Linda Schilling Nygren, he was preceded in death by his maternal grandparents, David and Mary Mason Schilling; his paternal grandparents, Russell and Betty Ervin Nygren; aunts, Elam Hull and Sandy Bennett; and uncle, John Nygren.
Those left to cherish Father Nygren's memory include his father, David Nygren of Statesville, N.C.; his sister, Sarah DeMorrow and her husband Frank of Troutman, N.C.; niece, Emma Grace DeMorrow; his partner, Father Keith Davis of Corpus Christi, Texas; his aunts and uncles, Nancy and Ted Hogan of Lakeland, Fla., and Pat and Doug Schilling of Richmond, Va.; aunt, Suzanne Nygren of St. Augustine, Fla.; and his many cousins.
Father Adam cared passionately for other people. He had dedicated his life to serving Jesus Christ and those in need, especially those seeking recovery. When you became his friend, you were his friend for life, and he would do anything for you. It is impossible to estimate the number of people whose lives were impacted and changed by knowing Father Adam. He was deeply loved and will be missed by all who had the privilege of knowing him.
The family will receive friends from 6 to 8 p.m. on Friday, September 16, 2022, at Nicholson Funeral Home. A Funeral Mass will be held at 11 a.m. on Thursday, September 22, 2022, at The Episcopal Church of St. Peter by-the-Lake, 8433 Fairfield Forest Road, Denver, N.C., with Bishop Jose McLoughlin officiating. Burial will follow the Funeral Mass at 2:30 p.m. at the Abilene Church of Christ Cemetery, 120 Bell Farm Road, Statesville, N.C.
In lieu of flowers, the family requests that donations be made in Adam's name to the Emma Grace DeMorrow Trust Fund, St Peter by-the-Lake Episcopal Church, or a charity of your choice.
Online condolences may be made to the family at www.nicholsonfunerals.com.
Nicholson Funeral Home has the honor of serving the family.