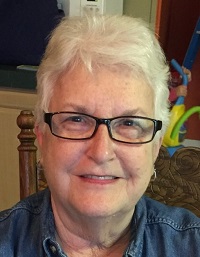 Frances Lasley Lanier died June 21, 2022, from complications of pneumonia. She departed this life surrounded by her beloved family, "my whole world" as she said before she passed. Frances left this life cherished and respected by all who knew her.
Frances was born on June 21, 1946, to John Kerr Lasley and Helen Misenheimer Lasley who, along with her sister Jackie Lasley Milling Gonzalez, preceded her in death.
Frances is survived by her devoted husband of 57 years, Lowery Lanier; her sons, John (Claudia), Andy (Donna), and Hank (Sarah); and her grandchildren Jessica Bustle (Jeremy), Jennifer Mills (Brandon), Meagan Mooney (Dustin), Luke Lanier, Jarrod Lanier, and Rachel Lanier. Additionally, she is survived by Waltraud Lanier, Jessica and Jennifer's mother. Frances was very proud of her seven beautiful great-grandchildren.
Frances' life was devoted to nurturing. Not only did she literally feed others throughout her career in food services with the Iredell-Statesville School System and through extensive volunteer work with a local food bank, but she nurtured her family and all who knew her with godliness, generosity, kindness, and positivity. Her greatest accomplishments in life involved her family. She was the light they all still carry out into the world.
Proverbs 31: 25-28 offers praise for the godly woman: "Strength and honor are her clothing, and she shall rejoice in time to come. She openeth her mouth with wisdom, and in her tongue is the law of kindness. She looketh well to the ways of her household, and eateth not the bread of idleness. Her children arise up, and call her blessed; her husband also, and he praiseth her." Frances' family calls her blessed and lifts her to God and to her eternal, holy rest.
If at the end of our life's journey, we depart loved and cherished by the family we served faithfully in life, we have lived in abundance and in honor of the Father. Frances lived such a life and blessed all who knew and loved her.
A memorial service is planned for Saturday, July 2, at 10 a.m. at Northview Church of Christ (2615 Amity Hill Road, Statesville). Visitation will follow the service.
The family asks that in lieu of flowers, donations be made to Second Harvest Food Bank of Northwest NC, 3655 Reed Street, Winston-Salem, NC 27107.
Troutman Funeral Home is serving the family.