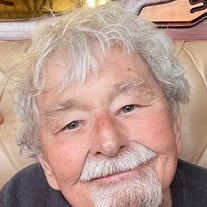 Frederick Arthur Wermuth III, 77, of Mooresville, N.C., and formerly of High Bridge, N.J., passed away on Wednesday, May 11, 2022, surrounded by his family and friends following a brief illness.
Fred was born on April 17, 1945, in Warren, Pa., to the late Frederick Arthur Wermuth Jr. and Dorothy Hendrickson Wermuth. He was a Sergeant in the United States Army and served in the Vietnam Conflict. Fred enjoyed fishing, shooting, camping, and playing video games.
He was the Worshipful Master in 1984 for the Hobart Masonic Temple in High Bridge, N.J., Crescent Temple. He was a member of the Tall Cedars of Lebanon, Hunterdon County Forest #13 and Ancient Accepted Scottish Rite-Valley of Trenton. Fred was a proud 1974 Phi Beta Kappa graduate of Rutgers University in New Brunswick, N.J.
Those left to cherish his memory include his wife of 33 years, Mary Wermuth; three children, Penny Panzer and significant other Danny Mayer, Bob Hannigan and spouse Sandi, and Patti Lazowsky and spouse Mark; grandchildren, Ray Panzer and Zoe Panzer; brother, Thomas Wermuth; and sister, Jacqui Anstey and spouse Bill. Also surviving are numerous nieces and nephews.
A gathering to celebrate his life will be held on Monday, May 16, 2022, from 10 a.m. to 12 noon at Cavin-Cook Funeral Home, Mooresville. A memorial service will be held by family at a later date.
In lieu of flowers memorials may be made to the Shriners Children's Hospital, c/o OASIS Shriners, 604 Doug Mayes Place, Charlotte, NC 28262.
Cavin-Cook Funeral Home, Mooresville, is serving the Wermuth family. Condolences may be made to the family at www.cavin-cook.com.