BY KARISSA MILLER
When Brian Bustle began taking classes at Mitchell Community College, he hadn't been in school for approximately 15 years — and his path to graduating seemed nearly impossible.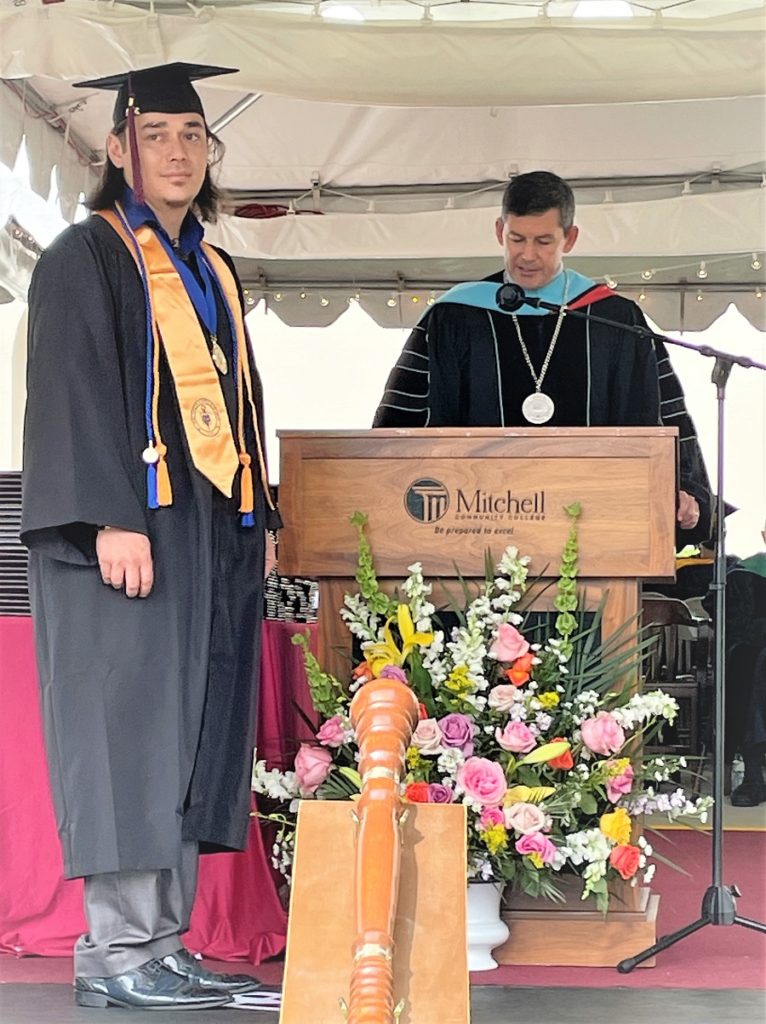 But Bustle believes in the possible.
"He accomplished all of his goals while working 40 to 80 hours a week and taking care of his family," Mitchell President Dr. Tim Brewer said during Saturday's commencement ceremony.
That statement was met with a massive round of applause and cheering from graduates, family, faculty and friends. Brewer paused momentarily.
Bustle wants everyone to know, Brewer continued, "If he can do it, so can you."
Brewer presented Bustle with the President's Award, which is given to a graduating student who has one of the highest grade-point averages on Saturday morning.
Another student, Lily Martin, has lived with a congenital defect since birth.
"Because of that she has acquired a genuine interest in the medical field," Brewer said. "She plans on using her skills to help others and navigate the healthcare system."
Brewer presented Martin with the Academic Excellence Award, which is awarded based on a high grade-point average and faculty nominations. She has obtained a medical assistance diploma and plans on paying forward the care she has received.
Bustle and Martin were among 400 students to graduate on the Circle during Mitchell's 2022 commencement ceremony in Statesville. In total, there were 650 graduates, which includes fall, spring and summer.
Under sunny skies, the ceremony was filled with graduates, ranging in age of 14 to 72, who came from different walks of life, including veterans and active-duty service members. Students received associate's degrees and other course related certifications.
Keynote Speaker
Keynote speaker Thomas Stith III, president of North Carolina Community College System, spoke about the importance of finishing what you start.
"You can only win if you finish. For some of you, it was easy … but to some of you it was a little different, the road to Mitchell took a few turns with some stops along the way," he said.
Stith said that community college provides an opportunity for students to learn at their own pace.
We "accept you where you are and can take you as far as you want to go," he said, noting it's also affordable. "In other words, our pride isn't based on exclusivity, but inclusion."
Community colleges across the state have a $19.3 billion economic impact in North Carolina, he said, and Mitchell has a $128 million impact on the local economy.
Stith encouraged grads to share their stories and help become a brand ambassador for the community college.
Photos