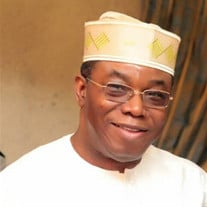 George Etsenamhe Onekhena, 65, passed away on Tuesday, January 4, 2022, at home. He was born in Zaria, Nigeria, to the late Peter and Theresa Onekhena.
Mr. Onekhena was passionate about the accounting and insurance industries, and corporate strategy. He served 30-plus years pushing for development, innovation and integrity in the financial services sector. After serving in multiple leading roles in the industry he retired as the Deputy Commissioner of Finance and Administration of the National Insurance Commission (NAICOM).
He was well known and loved by friends, family, and colleagues for his humor, diligence, generosity, courage, wisdom and integrity. His true passion and life mission, as he told it, was people. He believed in meeting people where they were regardless of circumstance, creed or background and helping provide them the tools for success in all fields of human endeavor.
Above all he was a loving husband, father, son, brother, friend and mentor to many.
He is survived by his wife, son, daughter, four sisters, and two brothers as well as so many unofficially adopted children.
The family asks that you join them in celebration of the light he shown and the hearts he touched. Services will be held at 10 a.m. on Saturday, February 5, 2022, at Cavin-Cook Funeral Home, 494 E. Plaza Drive, Mooresville, N.C. In respect for the family and CDC protocols, we ask that all in attendance wear mask or face coverings.
The service will also be available via live stream for those who are unable to attend the service. You may go to the following link for the live stream https://view.oneroomstreaming.com/authorise.php?k=1643168846162368
Cavin-Cook Funeral Home and Crematory, Mooresville, is serving the Stockton family. Condolences may be sent to the family at www.cavin-cook.com.