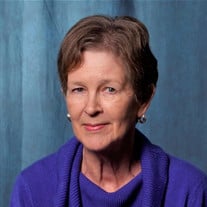 Linda Jones Stockton of Mooresville, N.C., passed away peacefully in the arms of her daughter and granddaughters on Saturday, January 29, 2022, at the S. Mitchell Mack Hospice House at the age of 80. She was born on October 7, 1941, in Candler, N.C., to the late Walter William Jones Sr., and Elizabeth Clontz Jones.
At the age of 20, Linda married her high school sweetheart, Earl Stockton, and they spent many years living in Hendersonville and spent the last 22 years in Mooresville to be closer to their daughter and family. Her favorite place in the world was Bald Head Island, where many memories were made as a family. She was an avid lover of cats, Carolina basketball, wearing the color red, and was never afraid to tell you what was on her mind. Her daughter and granddaughters were her greatest accomplishments. She was a fun and loving mother, grandmother, sister, friend, and member of Trinity Baptist Church.
Linda is survived by her loving husband of 60 years, Earl Nelson Stockton; daughter, Suzanne Davis (Joey); brother, William "Bill" Jones Jr. (Barbara); granddaughters, Lindsay Lackey (Jason) and Madison Davis; great-grandchildren, Elijah and Emery Lackey; brother-in-law, Larry Stockton (Noriko) of Easton, Pa.; sister-in-law, Doris Stockton Smathers of Albuquerque, N.M.; nieces Karen Sims (Tom) and Tracy Lawson (Marion); and nephews, Jeff Smathers (Tamara), Michael Smathers (Amanda), and Tony Jones (April). She is also survived by many special friends and her much loved cats, Tipper and Tucker.
In addition to her parents, Linda was preceded in death by a son, Eric Stockton.
Services will be held on Friday, February 4, at 2 p.m. at Trinity Baptist Church with Dr. Mark Harris officiating. A graveside service will be held on Saturday, February 5, at 12 noon at Shepherd Memorial Park Cemetery, 5045 Asheville Highway, Hendersonville, NC 28792.
In lieu of flowers, memorials may be made to Trinity Baptist Church, 221 Ervin Road, Mooresville, NC 28117, or S. Mitchell Mack Hospice House, 1325 Mecklenburg Highway, Mooresville, NC 28115.
Cavin-Cook Funeral Home and Crematory, Mooresville, is serving the Stockton family. Condolences may be sent to the family at www.cavin-cook.com.