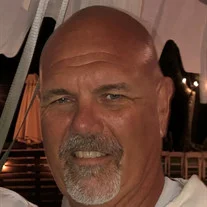 Harold Edward Hollar Jr., 57, of Cleveland, N.C., passed away on Sunday, September 11, 2022. He was born on October 21, 1964, in Arlington, Va., to the late Harold and Betty Stepp Hollar.
Harold hauled race cars for 20 years with many different race teams. He finished with JTGD Racing, which he enjoyed the most. He won a cooking contest for NASCAR, which he was very proud of because he loved to cook. He also spent some time working in the heating and air industry. Harold loved spending time with his family, especially his grandsons, and sipping cocktails on the beach. He made friends wherever he went and didn't know a stranger. He loved his family and will be greatly missed by everyone who knew him.
In addition to his parents, he was preceded in death by his sister, Tabatha Hollar.
He is survived by his loving wife, Kathy Clark Hollar; daughter, Nena Hollar; stepchildren, Melissa Richmond, Ryan Richmond (Amanda), Tyler Richmond; grandchildren, Kayden Hollar, and Drew Richmond; stepbrother, Butch Flagle; and stepmother, Joyce.
No services will be held at this time.
In lieu of flowers, memorials may be made to Hospice & Palliative Care of Iredell County, 2347 Simonton Road, Statesville, NC 28625.
Cavin-Cook Funeral Home and Crematory, Mooresville, is serving the family. Condolences may be sent to the family at www.cavin-cook.com.