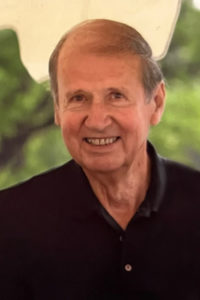 Harold Eugene Hanks, 92, of Statesville, N.C., went to be with his Savior on Friday, July 8, 2022, at the Gordon Hospice House.
Harold was born August 25, 1929, in Alleghany County to the late Arthur Hanks and Ruth McKnight Hanks. He enjoyed growing up on the mountain and briefly living in Maryland, before moving to Statesville with his family. He was a 1947 graduate of Scotts High School.
In addition to his parents, Harold was preceded in death by his wife Fran; close friend Jettie Pharr; and his son, Steve Hanks in 2018.
Those left to cherish his memory include his sister, Margaret Wilson; companion of 13 years Gladys Austin; granddaughter Sara Waugh (Greg); great-grandchildren, Kate and Luke Waugh; niece, Kathryn Foster Gantt (Shannon); niece, Lisa Brown (Leon); nephew, Mike Griffin (Cindy); and sister-in-law, Betty Foster.
Harold was blessed with wonderful extended family in Statesville and many McKnight relatives in Alleghany County. He was also fortunate to have a great group of friends, 'The Gang', who traveled and spent many years together.
In November of 1945, Harold met Miss Frances Foster while walking home from school one afternoon. Frances was driving a school bus and stopped to offer him and some other students a ride. Harold enjoyed telling everyone that "he caught more than a ride home that day." Their first date followed at the "Blue Bird Drive-In," located at the bottom of the hill where Harold and Frances would eventually build their home after marrying on June 30, 1948. They enjoyed 48 years of marriage before her passing in 1996.
Harold began working for the JCPenney Company in 1947. He was very proud to be one of the first employees hired at the Distribution Center in Statesville. He enjoyed a successful career as a Quality Control Manager, traveling all over the Southeast and many foreign countries. He was a hard worker and well-respected by everyone he encountered. He retired in 1989 after 42 years of service.
He was also a very talented Leathersmith. He enjoyed making new pieces and repairing horse tack. His work, including belts and wallets, was often sold at the "The Tack Shop." located on the family farm, Skyuka Farms. Woodworking was also a favorite hobby. He built beautiful pieces, including canes, bird boxes and special frames.
Harold was a long-time member of the Statesville Kiwanis Club, participating in numerous projects over the years to serve needs in our community. The Kiwanis Club's largest event was the Tar Heel Classic Horse Show, a widely popular horse show that ran for 39 years at the Iredell County Fair Grounds. Harold was a staple at the event, serving as Chairman numerous times and volunteering many hours to ensure it was a success. Harold's son, Steve, and his customers at Steve Hanks Stables, participated in the show, which made the event extra special for him.
While Harold loved his life in Statesville, Alleghany County was always in his heart. In 2006, he, along with close friend Jettie Pharr, designed and built a beautiful mountain home in Glade Valley, N.C., which overlooked the valleys where he grew up. His favorite pastime was sitting on the porch enjoying a cup of coffee at "Fox Fire." The family would like to thank Rudy McKnight, Sandra McKnight Carter and Tommy McKnight for their assistance in caring for the home that meant so much to Harold.
Harold loved the Lord and was a long-time member at Front Street Baptist Church and attended as often as his health allowed. He especially loved his Men's Sunday School Class and the camaraderie of their special group.
Harold was a true gentleman in every sense of the word. He was well-respected by everyone that knew him and treated everyone with kindness. Completely self-less, he constantly went above and beyond for others. Putting his own needs last, he cared for numerous family members over the years, exhibiting a strength and determination that was unmatched. Even after experiencing great loss over the years, his faith in the Lord remained strong and he persevered.
Family was extremely important to Harold, and he worked very hard to provide for them. He had a way of making everyone feel important and was always so happy to see family and friends. He was very proud of his son Steve and the successful business he built as one of the best Saddlebred horse trainers in the area. Harold loved going to the horse shows and supporting Steve.
Harold will be greatly missed, but the family takes comfort in knowing he is Home in the arms of the Lord and his loved ones. "Well done, good and faithful servant". Matthew 25:21
The family would like to publicly thank Gladys Austin for her love and support of Harold, especially the last few years. Her care, dedication and compassion carried him through difficult times.
Thank you to the staff of the Gordon Hospice House for treating Harold with compassion, dignity, and love. The family would also like to extend a special thank you to Todd Rhyne, Keith Somers, Rev. Tim Stutts, and many other members of Front Street Baptist who have supported Harold through the years.
A memorial service will be held Monday, July 11, at 2 p.m. at Front Street Baptist Church (1403 W. Front Street, Statesville) with Rev. Tim Stutts officiating. The family will receive friends after the service in the breezeway at the back of the sanctuary. A private burial will follow at Iredell Memorial Park at a later date.
Memorials may be made to Hospice & Palliative Care of Iredell County, 2347 Simonton Road, Statesville NC 28625; or Front Street Baptist Church, 1403 W Front Street, Statesville NC 28677.
Troutman Funeral Home is serving the family.