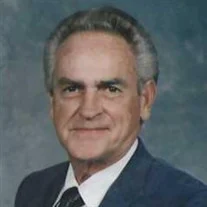 James Barnard Brewer, 87, passed away on September 1, 2022.
Mr. Brewer was born September 19, 1934, to Mr. Joseph S Brewer and Mrs. Ethel Barnard Brewer. Mr. Brewer served honorably in the United States Navy for three years. He was the District Sales Manager for the New Home Sewing Machine Company for over 20 years. He also ran numerous other businesses in the Statesville area. For the last 19 years, Mr. Brewer worked for his son Tony Brewer at Pocket Change Amusement here in Statesville. James loved spending time with all his sons camping and trout fishing in the mountains along with the numerous fishing trips spent together at the coast.
James was preceded in death by his parents, two brothers and three sisters. and one grandson.
He is survived by his loving wife of 56 years, Eunice Brewer; sons, Doug (Donna) Mayberry, Rick (Terri) Brewer, Tony (Robin) Brewer, Michael Mayberry and Jan Brewer, all of Statesville, N.C.; 10 grandchildren and 13 great grandchildren.
A funeral service will be held Tuesday, September 6, 2022, at 3 p.m. at Western Avenue Baptist Church, located at 1206 Museum Road in Statesville. A graveside service with military honors will follow at Oakwood Cemetery in Statesville. Pallbearers will be Jonathan Brewer, Sean Brewer, Justin Mayberry, Willie Grant, Bryon Pennell and Jim Pearson. Honorary Pallbearers will be Gene Roberts, Gary Fox, Dean Johnson, George Luthie and Bruce Morris.
The family will receive friends beginning two hours prior to the service from 1 to 3 p.m. at Western Avenue Baptist Church.
The family would like to thank Hospice of Statesville along with caregivers Jesse, Debra, Julie and Brittney for their loving care.
Nicholson Funeral Home is serving the family.