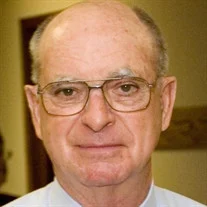 James C. Cartner Jr., 86, of Harmony, N.C., died Sunday, November 27, 2022, at the Gordon Hospice House in Statesville, N.C., after a brief illness.
Mr. Cartner was born July 30, 1936, the son of the late James C. Cartner and Mary Sharpe (Coble) Cartner. He graduated from Harmony High School in 1954; and in 1955, he met the love of his life, Shelby Jean Richardson. They wed on December 21, 1957 and moved to the family farm, where they built their lives together.
Mr. Cartner worked for J.C. Steele & Sons in Statesville for 34 years. He began his career at Steele's in 1964 as a machinist and retired in 1998 as machine shop superintendent.
At the same time, he ran a beef cattle operation on the farm his father purchased in 1944. He loved farming. He was happiest driving a tractor, fixing a fence, or feeding the cows. He continued farming until earlier this year when his health began to decline.
Mr. Cartner is survived by his wife of 64 years, Shelby Richardson Cartner of the home; two daughters, Sherry Cullen (John) of Harmony and Patty Cartner of Harmony; two sons, Kenny Cartner of Harmony and Bobby Cartner (Janet) of Harmony; four grandchildren, Taylor Ladd (Luin) of Statesville, Kathleen Sharpe (Shawn) of Statesville, Matthew Cartner (Alexandra) of Pfafftown, and Allison Cullen of Statesville; one great-granddaughter, Kaylee Grace Hammond; and a niece, Laura Cartner Dinkins of Mocksville.
In addition to his parents, he was preceded in death by a brother, Jerry Wayne Cartner.
Funeral services will be held at 2 p.m. Friday, December 2, at Mount Bethel United Methodist Church, 514 Mount Bethel Road, Harmony. Burial will follow in the church cemetery. The family will receive friends and family from 1 to 2 p.m. before the service.
In lieu of flowers, memorials may be made to the Gordon Hospice House, 2341 Simonton Road, Statesville, NC 28625 or to Mount Bethel United Methodist Church Cemetery Fund, c/o Fran Kirby, 307 Galliher Road, Harmony, NC 28634.
Nicholson Funeral Home is serving the family.