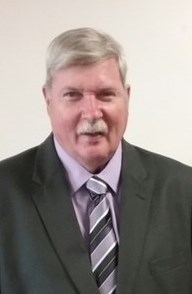 James Franklin Rickert Jr., 70, of Cleveland, N.C., went to be with his Lord and Savior on August 6, 2022. James was born August 29, 1951, to James Sr. and Estelle Pearson Rickert in Iredell County, N.C. James was preceded in death by his parents, and his daughter, Lisa Rickert Fraley.
James leaves behind a large and loving family, including his wife, Carol Penry Rickert; sons, Jimmy Rickert III and Ethan Rickert; daughters, Jennifer Rickert and June Rickert Allport (Adam); granddaughter, Marissa Soto; grandsons, Miguel Soto, Gabriel Soto, and Caleb Allport; brother, John Rickert (Derinda); sisters, Patricia Benge (Rickey) and Debby Mason; and brother-in-law, Robert Penry(Maxine).
James was a graduate of North Iredell High School and Wilkes Community College. He retired from the City of Statesville after 23 years. He was a member of the National Guard. James was a dedicated member of Believer's Faith Center Church, where he loved to sing. He spent his time being an usher, helping at a local prison ministry for seven years, and also at a nursing home ministry for many years. James loved to ride motorcycles, fish and bowl, and he and his wife enjoyed all his hobbies together.
The family would like to give special thanks to Roy and Nelda, for all the care the past two years. They would also like to thank Debby, Derinda, Lynne, Robbie, and Maxine for all their support and care in the last few weeks. Thank you to Pastor Bivens and wife Sharon, also, Jane, Nancy, and all our family and friends.
A visitation will be held Friday, August 12, 2022, from 6 to 8 p.m. at Bunch-Johnson Funeral Home. A celebration of life will be held on Saturday, August 13, 2022, at Believer's Faith Church at 2 p.m. with Pastor Michael Bivens officiating.
In lieu of flowers, donations may be made in James's honor to Believer's Faith Church or Hospice of Iredell.
Bunch-Johnson Funeral Home is honored to be serving the Lippard family.