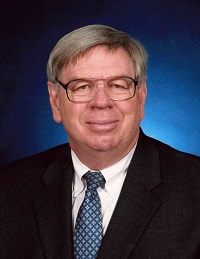 James "Jim" Donald Wilson, 79, of Statesville, N.C., passed away on Wednesday, December 14, 2022, at New Hanover Regional Medical Center in Wilmington, N.C.
Jim was born on June 20, 1943, in Statesville, N.C., to the late Gordon L. Wilson and Zelda Walker Wilson. He graduated from Statesville High School and N.C. State University at Raleigh in 1965. Jim went on to work as Vice President at G.L. Wilson Building Company for fifty years. From 1969 to 1970 Jim served as the President of the Statesville Jaycees. He was a lifelong Jaycees member and went on to receive the Ed Ellis Memorial Award as the Most Outstanding National Director of the North Carolina Jaycees in 1973-1974. Jim's community work went on to be recognized by Governor Bob Scott when he was awarded The Order of the Long Leaf Pine in 1972 and the Distinguished Service Award by the Statesville Jaycees for his service to the City of Statesville in 1978. He served on the Salvation Army Advisory Board from 1980 to 2011, including three years as Chairman, and has continued his work with the Salvation Army until his passing. He was awarded the Paul Harris Fellow by the Greater Statesville Rotary Club in 1995. Also, that year, he served in The Leonidas Lafayette Polk Society as a charter member of The Lifetime Giving Society of North Carolina State University. Jim also had a longtime membership in the NCSU WOLFPACK CLUB. Most recently, Jim was involved with planning for the permanent home for Preservation Statesville.
Those left to cherish his memory include his wife, Vicky Wilson; children, Kathleen Wilson (Randy), Laura W. Holland (Josh), Gordon Lee Wilson II (Kelly) and Ann Gardner Miles (Matt). Also surviving are his grandchildren, Natalie, Seth, Kyle and Lena Holland, Zachary and Jacob Wheeler, and Lucinda Wilson and Brynn Miles; brothers, Tom Wilson (Parksie) and Bill Wilson (Jean); and a special cousin, Martha Sue Barrick. Also surviving are his nieces and nephews and their families along with Barbro L. Nord, 1958 exchange student from Sweden who lived with the Wilsons while in Statesville.
A service to celebrate the life of Jim will be conducted at 2 p.m. on Thursday, December 22, 2022, at Broad Street UMC, Statesville, N.C. The family will visit with friends following the service in the Memorial Hall. Burial in Oakwood Cemetery will be prior to the service.
In lieu of flowers, contributions may be made to the Jaycee Cottage of the Boys and Girls Homes of NC, P.O. Box 127, Lake Waccamaw, NC 28450. For information, please email ray.cockrell@bghnc.org. Also consider the Preservation Statesville at P.O. Box 641, Statesville, NC 28687 or the Salvation Army at 1361 Caldwell Street, Statesville, NC 28677.
Troutman Funeral Home is serving the family.