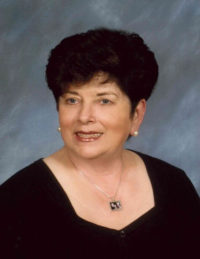 Our Mother, Janis Ford, sings with Angels on this day and her tired body has pain no more as her soul moves easily through God's kingdom. Surrounded by her family, she slipped quietly out of this world on Sunday, November 13, 2022.
Janis Elizabeth Cranford Ford, 74, was born September 21, 1948, in Salisbury, N.C. She was the daughter of the late James Everette Cranford Sr. and Kathleen Elizabeth Roberts Cranford.
On December 26, 1971, she was married to George Patton "Pat" Ford, who survives her. Educated in the Rowan County Schools, she was a graduate of West Rowan High School in 1966. She attended Lees-McRae College in Banner Elk, N.C. She was an active member of Broad Street United Methodist Church in Statesville, N.C. She worked many years, including 29 years at Duke Energy as an Environmental Chemist. She also worked at Hoechst Celanese and The City of Salisbury, where she retired in 2011. She was a proud member of the Daughters of the American Revolution (DAR). She was known as The First Lady of The F-100 Supernationals movement as well as a creator along with husband Pat of the JC's Toot and Tellem Reunion in Statesville.
She is survived by her loving husband of 51 years, Pat Ford; son Squire Jefferson Ford II of Statesville; daughter Elizabeth (Chelsea) Ford Case and husband Kevin of Hamilton, Ohio; two grandchildren, Jefferson Xavier Case and Elizabeth Patton Case; brother James Everette Cranford Jr. and wife Pat of Salisbury; and several loved nephews' nieces and grand nephews.
A very special thank you is expressed to Iredell Memorial Hospital in Statesville and Carolinas Continued Care of Pineville. Words can't express our gratitude to Tammy Nichols (niece) for her unending loving support through the final moments.
The family will receive friends at 2 p.m. on Wednesday, November 16, at Troutman Funeral Home in Troutman with the funeral following at 3 p.m. Burial will take place at the Salisbury National Cemetery.
Troutman Funeral Home is serving the family.