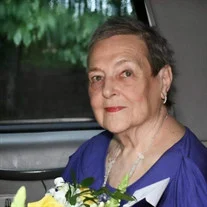 Marjorie Ann Singleton Bass passed away peacefully in her home surrounded by family on November 11, 2022, at the age of 88. Marjorie was born on August 3, 1934, to Clyde Thomas Singleton and Lois Stubbs Singleton in Shelby, N.C.
She was preceded in death by her husband of 44 years, the Reverend Billy E. Bass Sr.; her daughter, Robin Denise Bass; and her siblings, Janice Singleton Wilson and Thomas Singleton.
She is survived by a son, Billy E. Bass Jr. (Krista); daughter Patricia K. Bass; and daughter Katherine Bass Trexler (Matt). Her pride and joy were her three grandsons, Derek (Brittany), Kyle (Carli), and Zachary (Lauren). She also loved her numerous nieces and nephews.
Marjorie was devoted to her Lord and her family, living a life of active service as a Methodist minister's wife. She was a long-time member of Wesley Memorial United Methodist Church, where she taught Sunday school, sang in the choir, and became a lay speaker. She especially loved teaching children about God in her Sunday children's sermons. She loved her job at Wake Forest Law School, where she met many long-time friends.
The family would like to say a special thanks to the Statesville Elder Center, Hospice of Iredell County, and her long-term caregivers Morgan and Lisa Crawford.
A memorial service will be held Wednesday, November 16, 2022, at Wesley Memorial United Methodist at 825 Wesley Drive in Statesville, NC 28677. The family will be receiving friends at 1 p.m. and a memorial service will follow at 2 p.m. Burial will be in Shelby at a private ceremony.
In lieu of flowers, the family requests donations to be made in Marjorie's name to Hospice of Iredell County.
Nicholson Funeral Home has the honor of serving the family.