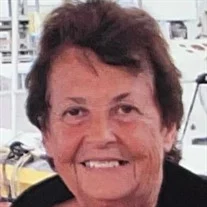 Jean Hooper Propst, 84, founder of Bucko's Restaurant on Plaza Drive in Mooresville, N.C., passed away at home with her family on July 29, 2022. Jean lived much of her life in Lincolnton before moving to Sherrills Ford in 1989.
She opened Bucko's in 1993 along with her daughter Missy Rosenbaum, who 29 years later continues its operation. The legacy she leaves behind is truly that of a remarkable lady. She was a wonderful mother and granny who was always near, devoted and caring for her family. Perhaps best of all, she was the good and trusted friend that everyone needs, be it family members or the many others who entered her life through work and business and to whom she became part of their own extended family.
She was the beloved wife of the late David Evans Propst for 61 years. She is survived by her son, Marty David Propst, and son-in-law David Griggs of Savannah, Ga., daughter, Missy Rosenbaum; and grandchildren Django Rosenbaum and Gabby Love Rosenbaum. By her side always, Lady and Doug were the special granddogs.
Always entrepreneurs, Jean and David had many businesses over the years. With Jean's creativity and business skills, they usually succeeded beyond expectations. Before the days of online home businesses, Jean's first big success was in electronic sales from a store in her backyard garage. With Jean's financial skills and David running operations, the two of them worked their trucking business from a single truck to that of a small fleet.
After moving to the lake, Jean purchased the Bucko's property in Mooresville. She didn't know anything about the restaurant business, but she wanted to get back to business and she knew she could serve food that people would want at a reasonable price. The customers that arrived opening day were treated to burgers, sandwiches, and hot dogs with the same homemade toppings Jean had always made for family and friends over the years at the lake. With Missy at the drive-thru window and Miss Jean in the back making sure it was all just right, everything seemed in place. Jean wanted Bucko's to be more than a place with good food — she wanted it to be a fun place for kids and everyone else. She added a huge 12-foot-tall fiberglass moose and built a tiki hut out front. Along the way, she and Missy tried to have as much fun as they could while working hard and serving food people truly enjoyed.
Although we now tearfully say goodbye to wonderful Miss Jean, her memories and presence will always leave a special place in our hearts.
A graveside service to remember Jean will be held at 2 p.m. on Tuesday, August 2, 2022, at Forest Lawn Cemetery, Highway 150 in Lincolnton.
Cavin-Cook Funeral Home, Mooresville, is serving the family of Mrs. Propst. Condolences may be made to the family at www.cavin-cook.com.