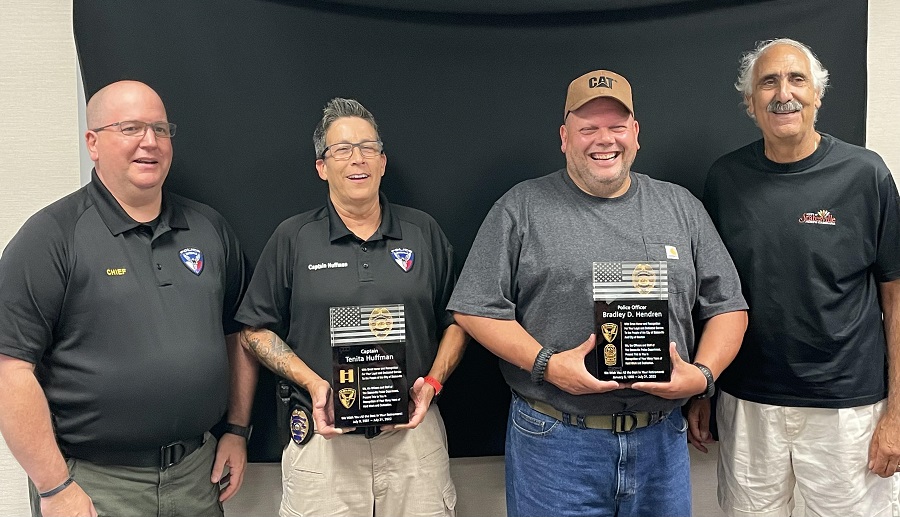 BY MIKE FUHRMAN
Along with a shiny plaque, some incredible stories and her pension, Tenita Huffman has a small battle scar on her forehead to remind her of her career with the Statesville Police Department.
Huffman, who retired as a captain on Friday after more than 21 years on the job, had to be reminded of the night she sustained that head injury by Chief David Onley.
She and another officer were pursuing a suspect when Huffman busted her head as she was running under an electricity tower near Wilmington Avenue. Knocked unconscious, she suffered a concussion and was later airlifted to Wake Forest Baptist Regional Medical Center.
But not before she walked out the suspect — who had been apprehended by another officer — in handcuffs.
Dazed and bloodied, Huffman encountered Onley, who had served as her training officer years earlier, as she was leading the suspect to her police vehicle.
The chief remembers that night more clearly than Huffman — because of the nature of Huffman's injuries and because of what the suspect said.
"I didn't do it, Onley," the suspect insisted, referring to Huffman's injuries. "I didn't do it."
The contributions that Huffman and fellow retiring officer Bradley Hendren made to the SPD and the Statesville community were celebrated Friday afternoon during a well-attended ceremony at the civic center. Both officers will be difficult to replace, the chief said. Their departure increases the number of open positions at the SPD to 22.
Hendren began working in law enforcement in January of 1990 as a part-time officer at the Taylorsville Police Department. He was hired as a full-time officer in Newton in 1993 before joining the SPD in 2010. For the final five years and 10 months of his career, he worked as the housing officer for the Statesville Housing Authority.
Hendren's ability to build a rapport with residents and address their concerns made him a great fit for that position, SHA Housing Director Cathy Chambers said.
"The biggest blessing was knowing they would have someone to call upon," she explained.
Hendren's calm demeanor and outgoing personality have been great assets to the community and the department, according to the chief.
"I think that's why did so well in housing," Onley said. "He treats everyone the same."
Hendren, who is looking forward to having more time to manage his herd of cattle during his retirement years, said he enjoyed getting to know residents and helping them resolve issues without handcuffs and criminal charges, whenever possible.
"I took care of my people," he said. "I'll miss the old people and getting out and talking with them."
Huffman's career in law enforcement took a much different form that Hendren's. Before finishing her career as a captain overseeing one of the SPD patrol districts, she worked in the violent crime and investigations units — and she spent a large portion of her career conducting undercover narcotics investigations.
"She's the best undercover we've probably ever had," Onley said. "There's been nobody more dedicated to her profession. She's an extremely hard worker, has been since day one."
Huffman shared a story about an undercover investigation in which she had purchased a bulletproof vest, handguns and drugs from a Mexican national who had worked as a police officer in his home country.
When the suspect pulled out his badge to show Huffman, she recalled having a difficult time resisting the urge to pull out her own badge and show him. That suspect, she said, was a member of a drug cartel who ended up being sentenced to federal prison.
Huffman, who plans to begin working for a local attorney's office, said she will miss the camaraderie she shared with other officers and the adrenaline rush that often accompanies police work. And she will miss the people she served and protected.
"I will miss all the citizens I have met within the past 21 years," she said. "I have watched their children grow up and have now developed relationships with their children, many of whom are now adults. And I will miss working with the officers and other agencies."