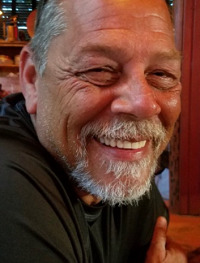 Jeffrey Wayne Thrift, 59, of Statesville, N.C., passed peacefully at his home on Wednesday, May 25, 2022, after a courageous battle with cancer.
Jeff was born on December 14, 1962, in Concord, N.C., and was raised by his grandparents, Robert H. Thrift and Vergie Morgan Thrift. He married his wife, Kimberly Ann Wygal Thrift, on June 20, 1997. They were married for nearly 25 years and built a beautiful life of love and adventure. They were members at Beulah Baptist Church. Jeff was committed to his church family. He was passionate about singing in the choir and serving on the security team. Jeff worked as a truck driver for R & L Carriers for 29 years and loved his job. He was known for bringing laughter and cheer to the workplace. He built personal relationships with his customers that he served on his route.
In addition to his wife, Jeff is survived by his six children, Jason Connolly (Candice), Erica Thrift, Alexandria Watson (Kyle), Morgan Thrift, Jay McGahan (Alaina), and Bryan McGahan (Jordan); ten grandchildren, Elizabeth, Bethany, Abram, Abby, Raylan, Toby, Eden, Bennett, Averie, and Madalyne; one sister, Donna T. Smith (Robbie); mother-in-law, Pamela Waugh; one step mother-in-law, Linda Wygal; and several close friends who are considered part of his family. He was preceded in death by two sons, Cass Thrift and Blake Kerley.
Besides spending time with his family, Jeff found enjoyment in camping, riding his Harley, singing for all to hear, and watching sports. You could often find Jeff camping by any body of water. He especially loved taking his camper to the beach and baking under the sun from sunup to sun down. He loved to inform others of his truck driving skills and would offer to demonstrate these skills by backing other people's campers into their spots.
Anyone who knew Jeff knew that Jesus and his family were the two most important things in his life. He put his whole heart into his PawPaw role and was adored by all ten of his grandchildren. His children describe him as always being a loving presence in their lives and being invested in their many ambitions and endeavors. Together with his wife, Jeff built a home that exemplified unity, trust, and unconditional love. These values that he instilled in his family are being carried on in the lives of his children and grandchildren.
Please join us in celebrating the incredible life of our Jeffrey. On Friday, June 3, 2022, Family and friends will be received from 3 to 4 p.m. followed by a celebration of life service at 4 p.m. at Beulah Baptist Church, 1851 Old Mountain Road, Statesville 28677. Rev. Brian Burgess will officiate.
In lieu of flowers, memorials may be made to Make-A-Wish Foundation, which was near and dear to Jeff's heart, or Hospice and Palliative Care of Iredell County, who provided compassionate care for Jeff and his family. Online condolences may be made to the family at www.troutmanfuneralhome.com.
Troutman Funeral Home is serving the family.