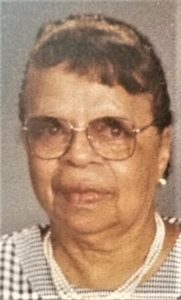 On August 21,2022, Jennie Ruth Lattan was promoted from laborer to reward to sit at the right hand of our Lord and Savior.
Born on January 11, 1934, to the late Mrs. Vera Mayfield Lattan and Willie Lattan. Ms. Jennie Ruth Lattan was number 18 of 19 children. She was preceded in death by her 18 siblings, Clarence Lowell Lattan, Atrice Marie Lattan Sharpe, Lula Mae Lattan, Willie Holman "Buster" Lattan, Baby Sister Lattan, Rosa Lee Lattan Rucker, Guy T. Lattan, Harper B. Lattan, Flossie Cleo Lattan Turner, Clement Maeso Lattan, Cordiel Latten Cherry, Mozella Lattan McCorkle, Nealie Conell Latten Beatty, Roberta "Leona" Lattan, Gussie Mae Lattan Carr, Hoyt Lattan, Juanita Curtis Lattan Brandon Wilson, and Leonard Lattan.
Ms. Jennie Ruth Lattan attended Iredell Public County Schools. She moved to Philadelphia, Pa., for a short time where she met LeRoy Leggett (deceased). They soon returned to Statesville, N.C. To their union, they had four daughters. For many years, Ms. Latten worked at Dixie Seating as a rocking chair packer and finisher. She was very proud of her work. She was most pleased with her ability to "clip," "grow" and "root" just about any type of plants. Plants that are more than 50 years old are still thriving due to her horticulture knowledge.
To know Ms. Jennie Ruth Lattan was to love her. She had an infectious smile and was simply hilarious. She loved to tell stories about her younger days and how she found her way to the Lord. Ms. Jennie Ruth Lattan was a proud long-time dedicated member of Highland Acres Church of Christ. Baptized June 25th, 1972, she was an avid reader of the Bible and enjoyed attending Sunday school, Sunday service, Sunday evening and Wednesday night service at Highland Acres Church of Christ. When praying for others, she always included a prayer for those on the highways and byways, those who do not have shelter and little food to eat. She would always close her prayers with Psalms 119:105 Your word is a lamp into my feet, a light on my path.
Ms. Jennie Ruth Latten and Leroy Leggett (deceased) leave behind loving daughters to cherish her memory. Wanda Kaye Lackey (Terri Mitchell), Kathy L Summers (deceased), Vanessa L Mitchell (Milton Mitchell) and Carolyn Ann Brock.
Grandchildren: Tarnisha Davis (Victor), Miyoshi Butler, Xavian Summers, Robert Lackey (Lyn), Jasen Lackey, Rev. Dr. Marcus N. Leggett (Nicole), Ajaya M Mitchell, Travis Harrison (Erin), Leslie Gould and Tora Gould Cousin (Tracey).
Great Grandchildren: Ava Taylor, Cheyenne Harrison, Tracey Cousin Jr, Myles D. Leggett, Jada N. Leggett, Joshua N. Leggett, Isaiah Butler, Shaquille Coleman, Diandra Coleman, Jamie Foster Jr., Robert Fell Jr., Jaiya Johnson, Madison David, Nazereth Foster, Malanah Foster, Nyalee Foster, Justin Lackey (Monica), Myhim Lackey, Tianna Jones, and Jordan Lackey.
Great-Great Grandchildren: Madison Lackey, Natalia Steele, Jedidiah Hardwick, Charles Crisi, Kha' Lee Jones, Amarion Blackwell, Jordan Lackey Jr., and Jocelyn Lackey.
She will be dearly missed by a sister-in-law, Glennie Wilson Latten, and a host of nieces, nephews, extended family, and friends.
A special thank you and acknowledgement to Ms. Jennie Ruth's caretakers, Mrs. Sue McDonald, Mrs. Barbara Strangefellow, Ms. Shirley Pickett and Ms. Lisa Edgeridge.
Rutledge & Bigham Funeral Home is serving the family.