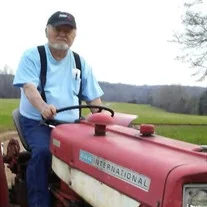 Jerry Wayne Goodman, 80, of Cleveland, N.C., passed away on Friday, September 2, 2022, at his home. He was born on February 15, 1942, in Iredell County, N.C., to the late Dennis Fleming Goodman and Ruby Compton Goodman. He was a plant manager in textiles before his retirement. Jerry enjoyed going to the beach, and the lake, old cars, International tractors and spending time with his family and friends. He enjoyed farming and won Young Farmer of the Year in 1975. He was a member of Amity Lutheran Church.
Jerry is survived by his loving wife, Kathy Barnes Goodman; daughter, Lisa Goodman Honeycutt and husband Todd of Mt. Mourne, N.C.; son, Chris Goodman and wife Terry of Cleveland, N.C.; stepson, Shane Frye and wife Kristin of Statesville, N.C.; brothers, Stanley Goodman of Mooresville and Joel Goodman and wife Angela of Mooresville; grandchildren, Jared Wayne Hobbs, Blake Goodman, Nadia Frye, Jordan Frye, Arabella Frye and Conner Frye; and great-grandchildren, Raylan Goodman and Jensen Smith.
Visitation for family and friends will be held on Wednesday, September 7, from 6 to 8 p.m. at Cavin-Cook Funeral Home. Services will be on Thursday, September 8, at 11 a.m. at Amity Lutheran Church, Cleveland, N.C., with Rev. Carroll Robinson officiating. Burial will follow the service in the church cemetery.
Cavin-Cook Funeral Home and Crematory, Mooresville, is serving the Goodman family. Condolences may be sent to the family at http://www.cavin-cook.comwww.cavin-cook.com.