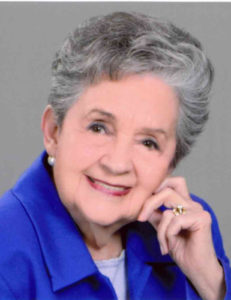 Joan Featherstone Lowry, 91, departed this world to be with her Lord on Tuesday, July 26, 2022. She was the daughter of Lawson and Viola Featherstone.
Joan was a devoted wife, mother, sister and grandmother who dedicated her life to serving Jesus Christ. She loved the Lord, her family, and served her community well. She was instrumental in the Billy Graham crusades in Statesville where she and her beloved husband led many people to Christ. She was active with the prison and bus ministries at her church. She was a sought-after vocalist, who could light up the stage with her energy, spunk and sparkle in her eyes.
She was a graduate of Belmont High School, attended Sacred Heart Junior College, Mercy Hospital School of Technology, and later Mitchell Community College for a degree in music. She was employed at Iredell Memorial Hospital and worked as a laboratory technician for many years. She served in the Gideon's Auxiliary, as Music Director at Western Avenue Baptist Church, and she taught countless voice lessons.
In addition to her parents, she was preceded in death by her husband, Fred Lowry Sr. and daughter-in-law, Sharon Crisp Lowry.
She is survived by her sister, Mary Featherstone; and brothers, John Featherstone (Anne) and Steve Featherstone; her children, Fred Lowry Jr., Scott Lowry (Amy), Paul Lowry (Gladys), Beth Sloan (Dale), and Mary Carol Pons (Harvey); 12 grandchildren, Rebecca Warchut (Drew), Amanda Lowry, Fred Lowry III (Jessica), Don Lowry (Nadine), Sara Ashley (Ian), Josh Lowry (Taylor), John Lowry, James Lowry (Allie), Mary Beth Lowry, Cory Sloan (Andie), Aaron Sloan, and Lauren Andrews (Ryan); and 10 great grandchildren, Lowry, Athena, Wilson, Adeline, Velouria, Harper, Rylen, Atticus, Clyde, and Gibson; and two nephews, Lawson and Nathan.
The family is thankful for the care received from Sherry's In-Home Care, with special thanks to Layden a beloved caregiver and grandchild #13 (as Joan called her), Dr. Andy White, and Hospice & Palliative Care of Iredell County.
A celebration of life will be held at 3 p.m. Sunday, July 31, 2022 at Western Avenue Baptist Church with Rev. Jeff Spry officiating. The family will visit with friends following the service. A private burial will be held for the family in Oakwood Cemetery. In lieu of flowers, please consider a donation in memory to Gideons International (P.O. Box 148, Statesville, NC 28687), Western Avenue Baptist Church (1206 Museum Road, Statesville, NC 28625) or Hospice & Palliative Care of Iredell County (2347 Simonton Road, Statesville, NC 28625).
Troutman Funeral Home is serving the family.