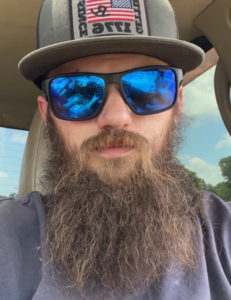 Julius Chance Gunter, 27, of Statesville, N.C., passed away on Monday, July 25, 2022.
Mr. Gunter was born July 24, 1995, the son of Jennifer Gunter Windon. Chance attended West Iredell High School and was a member of New Bethany Baptist Church. He was employed by Acosta Branding. In his spare time, he loved repairing and riding motorcycles, fishing, trail riding, hunting and all watersports, but most of all he loved his family.
Chance was preceded in death by his grandfathers, Dewight Gunter and Millard Windon; his great grandfather, Paul Thomas Stewart; his great grandparents, Whitey and Albia Gunter and Brady and Ruth Byers; his uncle, Richard Stewart; and his adopted mother, Dina Wilcox.
In addition to his mother, Jennifer, and stepfather, Jody Windon, those left to cherish Chance's memory include his daughter, Mason Gunter; his son, Waylon Gunter; the mother of his children, Natalie Gregory; his brother, Gregory Windon; his stepsister, Katelyn Windon; his grandmothers, Paula Ann Gunter and Karen Windon; his great grandmother, Shirley Stewart; his aunts, Felicity Voorheis (Ray) and Ruth Lippard; and his cousins, J. Voorheis and R.T. Voorheis. He is also survived by lots of beloved aunts, uncles, and cousins.
A celebration of life will be conducted at 2 p.m. on Monday, August 1, 2022, in the sanctuary of New Bethany Baptist Church. Rev. Bill Mason will officiate. The family will visit with friends following the service in the church fellowship hall. Online condolences may be made to the Gunter family at www.troutmanfuneralhome.com.
Those wishing to make memorials are asked to consider giving to Chance's children's college fund or to aid the family with funeral preparations and expenses.
The family urges that if you are experiencing depression or addiction issues, please ask for help: Additional Recovery Medical Services of Statesville at (704) 872-0234.
Troutman Funeral Home is serving the family.