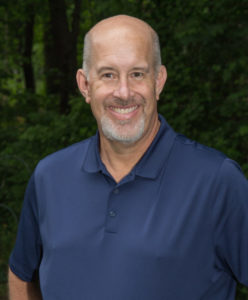 Jody Gray Deal, 54, of Statesville, N.C., passed away, Friday, June 17, 2022, surrounded by his family following a courageous battle with pancreatic cancer.
Jody was born November 26, 1967, in Iredell County to Mary Oliver Deal of Statesville and the late Ben Gray Deal. He was a graduate of West Iredell High School and Mitchell Community College. On November 6, 1993, he married Bobbie Jo Medlin Deal, and together they had two beautiful daughters. For 22 years, Jody worked for U.S. Smokeless Tobacco and was employed for the past nine years with Quality Oil Company as a Loyalty Program Coordinator. He served as a faithful member and Sunday School teacher for Mt. Nebo Baptist Church.
In addition to his mother and wife, Jody is survived by two daughters, Morgan Leigh Deal of Statesville, and Madison Gray Deal and fiancé Hunter Galliher of Statesville; one brother, Todd Oliver Deal (Lisa) of Troutman; mother-in-law, Diane Medlin; two brothers-in-law, Mark Medlin (Chris) and Scott Medlin (Risa); nieces and nephews, Dylan, Rylee, Garrett, Dusty, Cody, Jacob, Katherine, and Jessica; and beloved fur babies Ollie and Tucker.
Funeral services will be held Wednesday, June 22, 2022, at 2 p.m. at Mt. Nebo Baptist Church, 2600 Old Mountain Road, Hiddenite, N.C., with Rev. Brian Eades officiating. Burial will follow in the Bright Light Baptist Church Cemetery. The family will receive friends Tuesday evening, June 21, 2022, deom 5 to 8 p.m. at Mt. Nebo Baptist Church. Active and honorary pallbearers will be Eric Patterson, Lanie Craven, Brian Niblock, Alan Ruppe, Brad Kastor, Timmy White, Blue Bentley, Bryan LeFever, Lynn McNeely, Gene Dagenhart, Jim Bridges, Mark Medich, Scott Marks, Britt Alexander, Tim Austin, Terrell Sharpe, Dennis Long, Terry Levan, and Tyler Baker.
Memorials may be made to Bob Patterson Scholarship Fund at ewpatterson@bellsouth.net or to Hospice and Palliative Care of Iredell County. Online condolences may be made to the family at www.troutmanfuneralhome.com.
Troutman Funeral Home is serving the family.