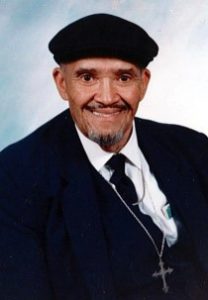 Mr. John Baxter Norman, 85, of Troutman, N.C. departed this life on March 3, 2022. He was born on November 15, 1936, in Iredell County to the late Sinclair Norman and Margaret Miller Norman. He was also preceded in death by a brother Marvin Lee Norman.
Mr. Norman attended Unity High School. He worked at the City of Statesville as a Custodian for many years and later worked part-time at the YMCA of Statesville as a Security Desk Attendant, attracting young and old with his genuine love and concern he showed to all with his smile and famous words "Have a Blessed Day." He was a faithful member of Faith United Methodist Church of Mooresville, N.C., for many years. He held the positions of United Methodist Men Board Member, Trustee and served on the Usher Board.
Mr. Norman was a loving husband, father, brother, grandfather and great-grandfather. He is survived by his wife of 60 years, Nellie Jean Johnson Norman of the home; three daughters, Nancy J. (Keith) Wellman of Statesville, N.C., Wendy N. (Theodore) Raiman of Peoria, Ariz., and Darlene N. Tucker of Troutman, N.C.; and one former son-in-law, James Melvin Tucker of Statesville, N.C.; three grandchildren, NaKeithan (Leandra) Wellman of Hickory, N.C., Candace (Terry) Martin of Greensboro, N.C., and James (Brittany) Davidson of Statesville, N.C.; and seven great-grandchildren.
He also leaves to cherish the memory of his life nine siblings, Fred A. (Petrolia) Norman of Cornelius, N.C., Charles W. (Amanda) Norman of Statesville, N.C., Margaret Ann Norman of Queens, N.Y., Virginia (Kenny) Sharpe of Charlotte, N.C., Ruby (Ronald Sr.) Reid of Statesville, N.C., Patricia (Louis) Cookley of Charlotte, N.C., Betty (Sherman) Hannah of Jamestown, N.C., Kathy (Hughey) Jefferies of Marietta, Ga., and Susie O. Norman of Round Rock, Texas; as well as a host of nephews, nieces, cousins, friends and relatives.
John loved his family and enjoyed talking to anyone who crossed his path. He never met a stranger. He loved seafood, specifically shrimp and fried oysters, chewing his tobacco, and playing the Cash 5; everyone knew his numbers by heart even the store attendants. John loved the Lord and read his Bible daily. His friendly spirit and love for people will truly be missed.
A visitation will be held on Thursday, March 10, 2022, from 12 noon until 1 p.m. at Faith United Methodist Church in Mooresville and a funeral service will be held at 1 p.m. following the visitation. Interment will follow at Iredell Memorial Gardens in Statesville.
Bunch-Johnson Funeral Home is honored to be entrusted with the care of Mr. Norman and his family.