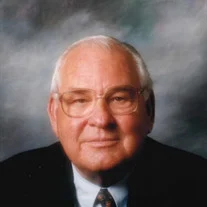 John Robert Graham Sr., 97, of Mooresville, N.C., passed away on Monday, November 28, 2022, at The Pines at Davidson.
He was born on August 6, 1925, in Grays Creek, N.C., to the late Daniel Edward Graham Sr., and May Belle Breece Graham. Throughout his life, he was a man of many accomplishments and achievements. After graduating high school, he proudly served his county in the United States Navy during World War II. After serving, he attended the University of North Carolina at Chapel Hill and graduated in 1950 with a degree in chemistry. Go Tar Heels! From 1950 to 1980, he led a Fortune 500 company and subsequently purchased Mooresville Oil Company, his family legacy. He was a charter member of the Point Lake and Golf Club, the Mooresville-Lake Norman Rotary Club and Peninsula Baptist Church. He loved to play golf and always joked that his children could never beat him in a round. He enjoyed flying his own airplane, traveling with his beautiful wife of over 69 years, but most of all, enjoyed spending time with his children and grandchildren on Lake Norman.
In addition to his parents, he was preceded in death by his wife, Louise Oden Graham; brothers, Daniel Edward Graham Jr. and Lawrence Pittman Graham; and sister, Emily Graham Eason.
He is survived by his children, John Robert Graham Jr., Richard Eugene Graham, David Lynn Graham, Charles Edward Graham (Debbie), and Emily Graham Lutz (John); granddaughters, Kristen McKenzie Graham and Carly McCrea Graham; and grandsons, David Clark Graham, Jonathan Lane Lutz, Hunter Graham Lutz and Jack Holden Lutz (Peyton).
Funeral services will be held at 2 p.m. on Thursday, December 1, at Trinity Baptist Church with Rev. Dr. Mark Harris and Rev. Dr. Robert Jackson officiating. Burial will follow the service at Glenwood Memorial Park with full military honors.
Memorials may be made to Trinity Baptist Church, PO Box 3365, Mooresville, N.C. 28117; Peninsula Baptist Church, 687 Brawley School Road, Mooresville, NC 28117; Hatteras United Methodist Church, 57665 NC-12, Hatteras, NC 27943; or Cape Fear Baptist Church, 6041 Butler Nursery Road, Fayetteville, NC 28306.
Cavin-Cook Funeral Home & Crematory, Mooresville, is serving the Graham family. Condolences may be sent to the family at www.cavin-cook.com.