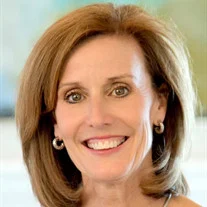 Katherine "Kathy" Louise McLeod passed away peacefully on May 29, 2022
Born April 1, 1965, in Columbus, Ohio, she was the daughter of Barbara Gates and the late Samuel Junk. After graduating from Worthington High School in Ohio, Kathy moved down South to attend Clemson University, where she graduated in 1987. While at Clemson, she served as the President and Social Chair of her sorority, Kappa Kappa Gamma. Clemson is also where she met her husband, Ken McLeod. Together, they had three children, who were Kathy's pride and joy.
Kathy went to work for Anderson Consulting in Atlanta, Ga., after college and later moved to Charlotte, N.C., where she began her 20-plus year corporate career at Bank of America. While working at the bank, Kathy earned her MBA from the McColl School of Business at Queens University. Kathy then retired from the corporate world in order to have more time to spend with her family. After a year-long break, Kathy was ready to dive into her next adventure and began her own interior design firm, RES Interiors, naming it after her three children, Riley, Emily and Sam.
Kathy enjoyed being an active member of her community, having served as a past board member and committee chair of the Lowe's YMCA and volunteering at the Mooresville Christian Mission. She also served as a board member and volunteer at Girls on the Run of the Greater Piedmont and Davidson United Methodist Church. She participated in numerous family mission trips through the church and volunteered many times at Room at the Inn, which were both activities that she loved doing with her family.
Kathy was a bright light in this world. She was adored by so many for her kind, caring, outgoing, selfless, fun-loving and positive personality along with her contagious smile. She had a love for life that was evident to all. She loved spending time outdoors whether that was running, snow skiing, lake days, concerts, or cheering on her Clemson Tigers at football games. She also loved traveling, with her family vacation to Italy in 2019 being one of her favorite trips. Above all else though, Kathy loved spending quality time with her family.
She is survived by her beloved husband of 33 years, Ken McLeod; daughters, Riley McLeod and Emily McLeod; and son, Sam McLeod. In addition to her mother, Barbara Gates, she is also survived by her mother and father-in-law, Dale and Neil McLeod; three siblings, Jennifer Brunner, Andrea Dowding, and Dan Junk; her sister-in-law, Amy McLeod; and numerous aunts, uncles, nieces, nephews, great nieces and great nephews, whom she loved dearly.
Kathy was predeceased by her father, Samuel Junk.
The family will be hosting a Celebration of Life visitation from 5:30 to 8 p.m. on Thursday, June 9, 2022, at Cavin-Cook Funeral Home – Heritage House. A memorial service will follow the next morning on June 10, 2022, at 11:30 a.m. at Davidson United Methodist Church.
In lieu of flowers, Kathy's family would request that you consider a donation to either Camp Cole (https://www.campcole.org/donate/) or the Mooresville Christian Mission (https://ourchristianmission.org/). Both of these organizations and their missions were very close to Kathy's heart.
Cavin-Cook Funeral Home and Crematory, Mooresville, is serving the McLeod family. Condolences may be sent to the family at www.cavin-cook.com.