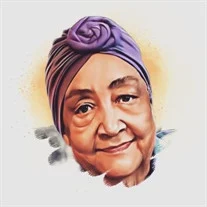 Bette Jane Rhodes of Harmony, N.C., transitioned from this natural life into eternal existence at the age of 88 on Monday, May 30, 2022, at home. Bette was born on September 13, 1933, in Summit, N.J., to the union of the late James and Helen Weaver. She grew up in Vauxhall, N.J. She was preceded in death by her one sister and three brothers.
Bette was employed as a Certified Nursing Aide and retired from New Lisbon Developmental Center, where she was employed for many years.
Bette was a beautiful soul inside and out. She had a love for Gospel music and loved the Lord. She was a dedicated member of First Baptist Church in Vauxhall, N.J., for over 70 years. She was recognized as a church mother and a Godly example. She was temperate, committed, loving, gentle and a spectacular cook. She was never one to force advice, but she would speak from the heart when asked. She had an infectious laugh, warm smile and working hands that nurtured six children, three daughters and three sons.
Bette was preceded in death by her loving husband of 50 years, Ronald Rhodes; her children, Sharon Jones, Barry Weaver, Dennis Charleston, Kevin Charleston, and Rachel Crane.
She leaves to cherish her memory as the Matriarch of the family her beloved daughter, Gwyn Braddy-Greene; grandchildren, Renee Jones, Michelle Weaver, Angela Edwards (Rick), Monique Weaver (Hazz), Tamika Bass, Patricia Jones-Sales (Jerome), Erica Weaver, Darrell Crane (Janis), Jamar Braddy (Zebia), Dante Thorne (Amber), and Nicholas Charleston; and a host of great grandchildren, nieces, nephews and friends. She had a real passion for people throughout her life and loved all she encountered.
Bette leaves a legacy of love, which will greatly strengthen and comfort those she leaves to cherish her memory. The rich love she gave to others, completely and selflessly, gave her the courage to transition this life on May 30, 2022, knowing she had lived her "best life" — a life of love.
"Being deeply loved by someone gives you strength, while loving someone deeply gives you courage." (Lao Tzu)
Bette will be deeply missed by her family, friends and all who knew her.
Nicholson Funeral Home is honored to serve the Rhodes family.