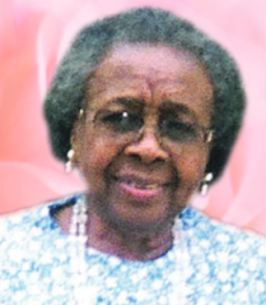 Kathleen "Kat" McGee Jones, the youngest daughter of the late Foster McGee and Zilpha Brown McGee, was born on July 2, 1923, in Statesville, N.C. She peacefully entered her heavenly home on Wednesday, December 29, 2021, in Flushing Hospital following a period of failing health.
Kathleen attended Iredell County Schools and was the first in the family to graduate from Unity High School in 1943. She accepted Christ at an early age and was a member of the first Usher Board of Knox Grove Baptist Church in Cleveland, N.C.. After her high school graduation, she attended Beauty School in Winston-Salem, N.C., and worked as a hairdresser for a short period of time.
Kathleen performed her patriotic duties during the second World War by working for RJ Reynolds Company in North Carolina. After the war she relocated to Brooklyn, N.Y., where she worked various jobs, and there she met her husband, Lawrence P. Jones, whom she married in June 1947. Their daughter, Sandra G. Jones, was born in May of 1948. Kathleen worked at H&S Finishing Products in Brooklyn as a packer for fifteen years before deciding to take on a new role as Accounting Clerk for AT&T. She had a thriving Avon business, which she continued for a period of time after retiring, ordering products for family and friends, until ill health prevented her from continuing.
Kathleen joined St. Luke Baptist Church under the leadership of Rev. Roy L. Gilmore where she was a faithful member. Upon her retirement, she loved gardening in her backyard and volunteering at St. Luke Cathedral kitchen and pantry where she made lifelong friends.
Kathleen is survived by her older sister, Hazel McGee Nicholson, and her husband, Lawrence P. Jones.
Kathleen is survived by her daughter, Sandra G. Jones of Queens Village, N.Y.; her niece, Thayis M. Nicholson of Sicklerville, N.J., and a host of cousins, friends, and extended family.
Due to inclement weather, the graveside service arrangements for Mrs. Jones, scheduled for Tuesday, January 18, 2022, may change.
Rutledge & Bigham Funeral Home is serving the family.