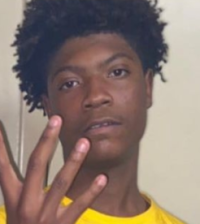 Mr. Kenyon Marquize Dulin, beloved son of Willie "Blue" Grant and Tychicka Kanyall Dulin, was born in Iredell County, N.C., on February 7, 2005. He had many friends, including his child's mother, Marissa Redmon, whom he all loved. He departed this life on Monday, January 3, 2022, in Statesville, N.C., following an automobile accident.
He was a junior at Statesville High School and loved to help people. At one time, he was employed at BoJangles, and he also cut grass.
He was preceded in death by his grandmother, Lizzie Mae Bowman; aunt, Tika Smith; uncle, Kenneth Rucker; god-mother, Yonnah Parks; and cousin, Maleah Gray.
He leaves to cherish the memory of his life his father, Willie "Blue" (Donna) Grant of Statesville; his mother, Tychicka (Lewis) Kanyall Dulin of the home; his siblings, Kenyae Dulin, John Larod Chambers, Kiaira Shuford, Willie (Alisha) Grant Jr., Calaya Grant, Navi Grant and Asher Grant, all of Statesville; his grandparents, LaPondia Dulin, Dale Millsaps, Martha (Roland) Tucker, and Kenneth Smith; his aunts and uncles, LaPorsha Dulin, Latronya Dulin, Travis Dulin, Kenny Dulin, Tiffany Oglesby, Trevis (Nicho) Morrison, Tonia (Theo) Reid, Shameka Smith, Shaneka (Tracy) Reid, Toya Smith, Janell McDonald, Tori (Rochelle) Summers, Keith Smith, Kendrick (Kimberly) Smith, Jacobi Gray, Jarvis Bell, Reggie (Angie) Imes, Rosa (Todd ) Steele, Charles Grant, Mildred McCoy, Craig Dulin, Jody Dulin, Jerry (Ruby) Millsaps, Brenda (James) Millsaps Harris, Rudolph (Ernestine) Millsaps, Leonard (Lashon) Millsaps, Baxter (Rosalyn) Millsaps, and Glenn (Cathy) Millsaps.
Visitation is scheduled for Tuesday, January 11, 2022, from 12 noon to 1 p.m. at Christian Outreach of the Piedmont Inc., 1424 Rickert Street, Statesville, N.C., followed by the service at 1 p.m. with pastors Charles Simpson and Carolyn Morrison officiating. Burial will follow at Belmont Cemetery in Statesville.
Rutledge & Bigham Funeral Home is serving the family.