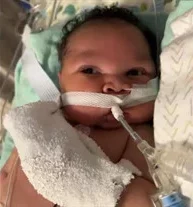 Kenzier Leroy Jones, the three-week-old son of Makayla Shuford-Jones and Kenneth Jones Jr., died December 11, 2022, at Atrium Wake Forest Baptist Medical Center. He was born in Catawba County, N.C., on November 17, 2022.
Surviving are two brothers, Kamon Jones and Kenneth Jones III. Also surviving are his maternal grandfather, Michael Shuford (Gloria); maternal great grandmother, Beulah Smith; and paternal grandparents, Kenneth Jones Sr. and Carolyn Carr.
He was preceded in death by his grandmothers, Chasity Summers Davidson and Dorothy Imes and Ophelia J. Carr.
Graveside services will be held at 3 p.m. Sunday, December 18, at Belmont Cemetery with Bishop Rufus Connor officiating.
For those who prefer, memorial gifts may be made to the donor's choice.
Condolences may be left online for the family at www.nicholsonfunerals.com.
Nicholson Funeral Home is serving the family.