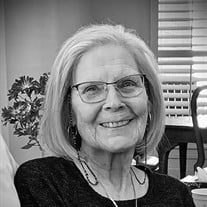 Alice Ann Downs passed away on Wednesday, December 14, 2022, at home with her family holding hands by her side.
Ann, who was born in Alexandria, La., was the youngest child of C.H. "Sammy" Downs and Melba Alice Daigre Thomas. Growing up in Alexandria, La., she attended Our Lady of Prompt and Bolton High School.
Following graduation, she moved to Baton Rouge, La., to attend LSU. After attending LSU, she married and raised her three children. Never shying away from a challenge, she focused all of her effort and energy on providing for her family.
She launched several successful businesses while raising her children. Afterward, she returned to school, graduating from Central Michigan University.
Ann was known for her unselfish strength and relentless work ethic. Her life was filled with experiences, both good and bad, that she used to help others.
Whether it was opening a snow cone stand to teach her children how to run a business or caring for elderly family members and friends at the end of life, she had an innate ability to use her life canvas, showing those around her how to take the best and the worst life has to offer and use it for good.
She is survived by her three children, one son, H. Allen Stuart Jr. (Hydi) of Lafayette, La., and two daughters, Alice Ann Schwartz (Jeff) and Martha Stuart Williams (Greg) both of Mooresville, N.C.; her grandchildren, who brought her so much joy, Hailey and Hunter Stuart, Emily and Andrew Schwartz, and Ella, Henderson, Mary-Mayes and Crawford Williams; and her two siblings, Ellarene Downs Galloway (Pat) of Mandeville, La., and James Crawford Downs (Maureen) of Alexandria, La.; as well as nieces, nephews and extended cousins all of whom she loved dearly.
Cavin-Cook Funeral Home & Crematory, Mooresville, is serving the Downs family. Condolences may be made to the family at www.cavin-cook.com.