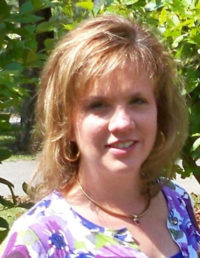 Kimberly Ann Scott Oglietti, 56, of Troutman, N.C., passed away Sunday, November 13, 2022, at Wake Forest Baptist Medical Center.
Kim was born February 27, 1966, in Pittsburgh, Pa., and is the daughter of Wayne and Nila Scott of Burgettstown, Pa.. She was a graduate of University of Pittsburgh and on November 18, 1991, she married Gregory T. Oglietti, who survives. She loved her family and traveling around the U.S. to National Parks.
In addition to her husband and parents, she is survived by two sons, Noah and Ryan Oglietti, both of Troutman; one brother, Keith Scott (Kathy) of Burgettstown, Pa., father- and mother-in-law, Ron and Fran Oglietti of Taylors, S.C.; two nephews, Zach Zollars (Tony) of Elgin, Ill., and Tyler Scott of Denver, Colo.; one niece, Hannah Scott of Burgettstown; one great niece, Ava Kimberly Bertolotti; sister-in-law, Karen Moore (Mike) of Columbia, S.C.; and special friend Stacey Scherer of Troutman, N.C.
A private family memorial service will be held Saturday, November 19, 2022, at Troutman Funeral Home with Father Mark Lawlor officiating.
In lieu of flowers, donations may be made to the Jimmy V Foundation for Cancer Research, www.v.org/research and online condolences may be made to the family at www.troutmanfuneralhome.com.
Troutman Funeral Home is serving the family.