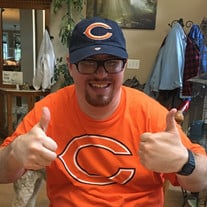 Kyle Ronald Jankowski was born in Lehigh, Pa., and passed away on April 26, 2022, at age 26 in his home in Mount Ulla, N.C.
He went to West Rowan High School, where he received his diploma, and has since spent time volunteering with Habitat for Humanity. He was a simple, kind-hearted soul that loved weekly walks around the flea market with his dad, road trips to visit friends and family, and buying gifts for others.
Kyle was preceded in death by his grandfather, Richard J. Jankowski, and uncle, Richard M. Jankowski.
He was the loving son of Suzanne Lois (Carlson) and Robert Alan Jankowski. He was the dear brother of Kelly Jankowski, Rob (Marie) Jankowski, Jenny (Scott) Riopelle, Leah (Dean) Sisco, and Rachel (Ralph) Salyers. Kyle had eight nieces and nephews that meant the world to him. He was further survived by many other relatives and close friends.
He will be remembered for his heart of gold, contagious smile and laugh, and love for the Chicago Bears and Jeff Gordan. He was always so happy and went to sleep the night prior so excited for a drag race this weekend and his upcoming birthday party on May 15.
A memorial service for Kyle will be held at 6 p.m. on Thursday, April 28, at Cavin-Cook Funeral Home (494 E Plaza Drive, Mooresville, NC 28115).
Condolences may be made to the family at www.cavin-cook.com.
Cavin-Cook Funeral Home and Crematory is serving the family.