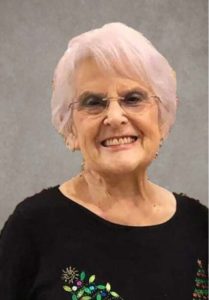 Patricia Ann Campbell Robbins, 82, of Davidson, N.C., passed away Friday, April 22, 2022, at the Gordon Hospice House in Statesville, N.C., following a period of declining health.
Mrs. Robbins was born October 9, 1939, in Maiden, N.C., and was the daughter of the late Frank B. Campbell and Louise McRee Marley. She graduated from Harding High School in Charlotte, N.C., and received an associate degree in medical coding at Kings College. She worked in the medical profession not only in medical transcription and coding but also as an office manager. In addition to her work, she also enjoyed teaching coding to other medical personnel. Pat also believed in the importance of volunteering and giving back to the community.
Pat was married to Rev. Raymond M. Robbins Jr., who survives. She was a member of Grace Covenant Church in Cornelius and very active within the church.
In addition to her husband, she is survived by one daughter, Karen Patricia Robbins Didow of Canada; one son, Raymond Scott Robbins (Tina) of Statesville; and three grandchildren, Michael Javan Didow, Tyler Scott Robbins, and Tristan James Robbins. She is also survived by a brother, Max Javan Marley Jr. (Lola) of Kentucky; and two nephews Adam Spencer Marley and Andrew Javan Marley.
A celebration of life service will be conducted at 2 p.m. on Sunday, May 1, 2022, in the chapel of Troutman Funeral Home with Pastor Paul D. Turbedsky officiating. The family will speak to friends following the services. Burial will follow at a later date.
In lieu of flowers, memorials made be made to the charity of the donor's choice. Online condolences may be made to the Robbins family at www.troutmanfuneralhome.com.
Troutman Funeral Home is serving the family.