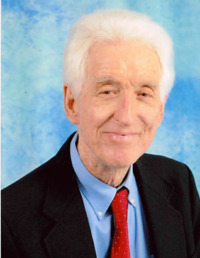 Larry Donald "Donnie" Cash, 81, of Troutman, N.C., passed away at his home on December 5, 2022.
Mr. Cash was born in Iredell County, N.C., on September 27, 1941, the son of the late L.D. Cash and Blanche Smith Cash.
Donnie was married for 58 years to Anginette Hobbs Cash, who survives. He was a 1959 graduate of Troutman High School. He completed a civil service correspondence course from Lincoln, Neb., while working full time. He was employed by Statesville Chair/Classic Leather for 49 1/2 years, but his favorite job was working in his yard and taking care of his vehicles. He was known for his green 1976 Chevy Truck. Donnie was a lifelong member of Shiloh United Methodist Church, where he served as Sunday School teacher, Administrative Board member and sang in the church choir for 65 years. He loved all his church family.
Along with his parents, Mr. Cash was preceded in death by his sister, Deane Cash Brown.
Those left to cherish Donnie's memory include his wife Angie; his son, Cary and his wife Jamie; his daughter; Donette Clendenin and her husband Tripp; his grandchildren, Lindsay Cash Greaves and husband Tanner, Jodie Cash, Carson Clendenin, and Cam Cash Clendenin; and his great grandson, Wilder Cash Greaves. He is further survived by one niece, Kellye Brown Proctor and husband W.A.
The family will visit with friends on Thursday evening, December 8, 2022, from 5 to 7 p.m. at Troutman Funeral Home. A memorial service for Donnie Cash will be conducted at 3 p.m. Friday, December 9, 2022, at Shiloh United Methodist Church. Burial will be held prior to the memorial service at Iredell Memorial Gardens at 1 p.m. Honorary pallbearers include Scott Honeycutt, Carroll Plyler, Wayne Plyler, Freddie Shives, and Melvin Tucker. Online condolences may be made to the Cash family at www.troutmanfuneralhome.com.
In lieu of flowers, those wishing to make memorials are asked to consider Hospice of Iredell County or Shiloh United Methodist Church.
Troutman Funeral Home is serving the family.