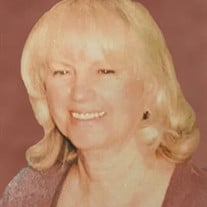 Lauralee Howard Decker, 72, of North Carolina (originally from Whitesboro, N.Y.) passed away on Tuesday, January 4, 2022, at her home surrounded by her family. She was born February 10, 1949, in Oneida, N.Y., to the late Robert Howard and Irene Moore Howard.
In addition to her parents, she was preceded in death by siblings, Nancy Caryl, Michael Howard and Robert "Bobby" Howard.
Lauralee graduated from Whitesboro Senior High School in 1967 and worked for Utica Psychiatric Hospital and Marcy Correctional Facility before her retirement. Lauralee had a huge heart and would help anyone in any way she could. To know her was to truly love her. She was a loving, caring and devoted wife, mother, nana, and great-grandmother. She was very proud of her family. Lauralee loved all animals and especially dogs and birds. She enjoyed cooking, reading, taking walks, and sewing, arts, and crafts. She enjoyed antique shopping and swimming in her pool and enjoying a glass of wine with her friends and family. She had a "green thumb" and loved her roses and the other plants in her garden. Lauralee enjoyed having her family around her for Sunday dinners and holidays. She always made each one feel so special.
Lauralee is survived by her loving husband of 53 years, Jack S. Decker; children, Robert Decker (Sondra) and Melissa Delaney (Kenneth); siblings, Gerry Spellman (Bill), Judy Inman (Brad), Janice Loomis, Sue Towne, Mary Fortnum (Cary), and Tim Howard; grandchildren, Ayden, Hunter, Reilly, Kenna Delaney and Ashley Bustos (Josh); and great-grandchildren, Parker Lee Blank and Austin and Hunter Cole Bustos.
A Memorial Service for Lauralee will be held on Friday, January 7, at 2 p.m. in the Heritage House of Cavin-Cook Funeral Home with Father Mark Lawlor officiating.
Cavin-Cook Funeral Home and Crematory, Mooresville, is serving the Decker family. Condolences may be sent to the family at www.cavin-cook.com.