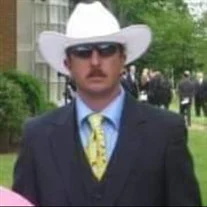 Lee Finley "JR" Barnett III, 42, of Harmony, N.C., died Wednesday, September 14, 2022, at Wake Forest Baptist Regional Medical Center following an illness of about a year. He was born in Iredell County, N.C., to Lee F. Barnett Jr. and Marsha Hazelwood Barnett.
JR served his country in the U.S. Marine Corps and worked for UPS for over 20 years. He was a people person, never met a stranger, and loved to make people laugh. He enjoyed fishing, singing, farming and cookouts with friends and family. He was a great husband and brother, and it was no secret that he was his mama's favorite child. He was a terrible motorcycle rider, went by the nickname "Pinkie," and loved giving to others. It was not unusual for him to randomly pay for someone's meal at a restaurant.
JR was preceded in death by his paternal grandparents, Lee "Butch" Barnett Sr. and Madeline Barnett; and maternal grandfathers, Bill Hazelwood and Bill Kerr.
In addition to his parents, he is survived by his wife, Crystal Hochmuth Barnett; a daughter, Graycie Barnett; two sisters, Angela B. Leach (Lox) and Heather Lester; his grandmother, Vernie Kerr; a great-aunt, Joyce Reese; 11 nieces and nephews; and five aunts and uncles and their spouses. He was also privileged to have special "brothers from other mothers," Nick Philbeck, Jason Hendricks, Michael Meager and Chris Penninger.
The family will visit with friends Saturday evening, September 17, from 5 to 7 p.m. at Nicholson Funeral Home. The Funeral Service will be held Sunday, September 18, 2022, at 2 pm at Broyles Shrewsberry Funeral Home in Peterstown, W.Va., with Rev. Josh Bunton officiating. Burial will follow at Bradley Cemetery with full military rites.
Nicholson Funeral Home and Broyles Shrewsberry Funeral Home are serving the Barnett family.