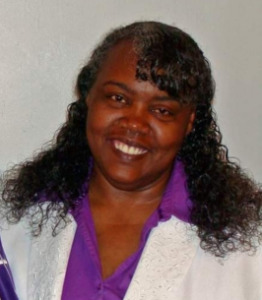 Linda Faye Strickland Wilder, 66, was born on September 20,1956, in Fair Bluff, N.C., to Ms. Juanita Strickland. She was immediately adopted by loving parents, Julius and Daisy Mae Jones. She departed this life on Sunday, October 30, 2022.
Her early years were spent living in Holly Hill, S.C.. At the age of 6, her family moved to Miami, Florida. She received her early education in the Dade County Public Education System.
Linda met her best friend Oliver in 1975 and they were married in 1992. From this blended union they were parents to ten wonderful children. She was blessed to receive the gift of the Holy Ghost on September 24, 1996, and has declared her life to helping Oliver in the ministry. After living in Miami for 34 years, Linda and Oliver relocated to North Carolina.
She was preceded in death by her parents, Julius and Daisy Mae Jones, and Juanita Strickland; her sister, Linnie Mae Gavins; her brother, David Jones; and her son, Eric Williams.
Left to cherish her memory are her loving husband of 33 years, Oliver Louis Wilder Jr.; their children, Hope (Christopher) Baucom, Airieal (Sedwick) Wright, Kermit (Jasmine) Pearsall, Oliver L. Wilder II, Donny J. Wilder Sr., Shanrhonda (LaMont) Barber, Michael (Tinea) Frederick, Tiana (Larry) Wilder, Christopher Pearsall, and Katrina Ramsuer; over 20 grandchildren; and a host of nieces, nephews, cousins, other family members, church family, and friends.
A Celebration of Life service will be held on Wednesday, November 9, 2022 at Lighthouse Deliverance Church, Statesville, at 1 p.m. Visitation will be held from 12 to 1 p.m. at the church. Burial will follow at the Oakwood Cemetery, Statesville.
Visit the Book of Memories for Mrs. Wilder at www.rutledgeandbigham.com.
Rutledge and Bigham Funeral Home is serving the Wilder family.