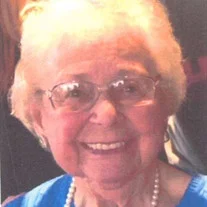 Mrs. Lorene Newton Rash, 98, of Mooresville, N.C., passed away peacefully on June 23, 2022, at Summit Hills in Spartanburg, S.C.
Born in Cliffside, N.C., on February 17, 1924, Mrs. Rash was the daughter of the late Robert Hoyle Newton and Stella Mae Sherrill Newton.
Zella Lorene Newton and William Paul Rash were married in 1944 after Paul returned from combat in the Philippines during WWII. They had a loving marriage for 61 years.
Mrs. Rash was a lifetime member of Broad Street United Methodist Church. She loved the Lord and took delight in serving others. One of the many contributions to Broad Street UMC that she will be remembered for is the creation of the historical section of the church library that documents Broad Street UMC's early beginnings represented by numerous photographs, articles, and church papers/recordings that she collected. Mrs. Rash had a special love of reading and enjoyed God's creation through gardening. She found joy in the Arts and encouraged others to create.
Mrs. Rash graduated from Mooresville High School, after which she had an extensive career at Mooresville Mills, Rollie Martin Company, and Regal Textiles. She owned a children's store affectionately named Candianne's. She co-owned PR Building Systems and worked into her eighties. Her strong work ethic was admired and continues on in her legacy.
Survivors include her daughter, Dianne Rash Bagnal of Spartanburg, S.C.; son, William Mark Rash of Mooresville, N.C.; two sisters, Ruby Newton Isehour and Connie Newton Lipe, brother Herman Newton (Barbara), all from Mooresville, N.C.; granddaughters, Jennifer Bagnal Horton (Greg) of Mt. Pleasant, S.C., Candace Bagnal Nettles (Neth) of Spartanburg, S.C., and Allison Bagnal Cranford (Shaun) of Columbia, S.C.; seven adored great-grandchildren, Anne, Zella, and Sam Horton, Liam and Garner Nettes, and Will and Hayes Cranford.
She was preceded in death by four brothers, Cecil, Richard, Bob, and Vernon Newton; and son-in-law, Jim Bagnal.
Mrs. Rash's love of God and family was evident throughout her long life. In the past year of her life, seeing her family, especially her great-grandchildren, brought a familiar and adoring wink and a smile to her face that will be remembered by all.
A visitation will be held Sunday, June 26, from 6 to 8 p.m. at Cavin-Cook Funeral Home. Funeral Services will be held at 10 a.m. on Monday, June 27, at Broad Street United Methodist Church, Mooresville, N.C. Burial will follow the service at Glenwood Memorial Park. Pallbearers will be Greg Horton, Neth Nettles, Shaun Cranford, Jason Lipe, Bradley Newton, and Chris Stonestreet.
In lieu of flowers, memorials may be made to Broad Street United Methodist Church, 355 South Broad Street Mooresville, NC 28115 to the "Lorene Rash Special Projects" fund.
Cavin-Cook Funeral Home and Crematory, Mooresville, is serving the Rash family. Condolences may be sent to the family at www.cavin-cook.com.