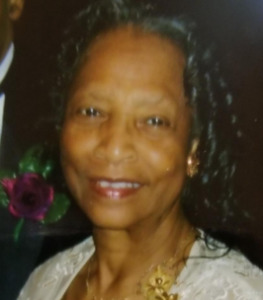 Mrs. Maggie "Pat" Priscilla Humes, 86, of Statesville, N.C., was born in Iredell County on August 22, 1935, to the late Theodore Waddell and Martha Patterson. She departed this life on Monday, June 13, 2022, at Gordon Hospice House in Statesville. Her grandmother, Daisy Waddell, assisted in raising her. She was the oldest of eight children and was known as Cella by her family. Pat was preceded in death by three brothers, Kenneth, Randy, and Samuel; and one sister, Renee. Her surviving siblings are Theodore, Deborah, Virginia, and Sandra.
She met her husband, Simeon Humes Jr., at John C. Smith University in her freshman year before she transferred to Harrisburg Hospital to complete Nursing School. They later married and enjoyed 64 years of married life raising seven children, Regina (Aubrey), Teresa, Simeon, Yvonne (Terry), Jonathan (Iona), Helena, and Andre (Marie). After Pat completed her Nursing Degree, she went on to complete her Baccalaureate Degree from Temple University. While working as a School Nurse for the Philadelphia School District of Pa., she obtained her master's degree and became a Nurse Practitioner.
While studying the Bible, she realized that her relationship with God was more important and she took the loss of all things considering them a lot of refuse to gain the Christ. She dedicated her life to God and symbolizes her baptism as one of Jehovah's Witnesses on August 8, 1981. She had love for Jehovah's Word, the Bible, and her spiritual routine. She would not allow anyone to interfere. Pat's goal was to have all of her family, especially her husband and her children, to come to an accurate knowledge of truth and to learn to love the God she served. She loved sharing her faith about Jehovah God and his Kingdom arrangement through His Son, Jesus Christ with her family, friends, and all who she met. She had a deep love for her spiritual family in the Christian congregations no matter where she resided. She made many sacrifices to comfort, encourage and upbuild others. One of the blessings and highlights of her life was traveling to Kenya, Africa, to enjoy the International Brotherhood. Soon after her trip, her health began to decline, but she always continued to do what she could in sharing her faith with others.
Her memories will be cherished by the many left behind to include 15 grandchildren, 11-plus great grandchildren, with one grand child, and one great grandchild preceding Pat in death. She has a host of nephews, nieces, and cousins.
A private viewing will be held on Friday, June 17, 2022, from 5 to 7 p.m. and a public viewing will be held on Saturday, June 18, 2022, at Rutledge and Bigham Funeral Home, Statesville, N.C., from 10 to 3 p.m. and the burial only will follow in the Belmont Cemetery, on Saturday, June 18, 2022, at 3:30 p.m. A Memorial service via Zoom will be held on Saturday, June 25, 2022. at 2 p.m. A link will be provided.
Rutledge and Bigham Funeral Home is serving the family.